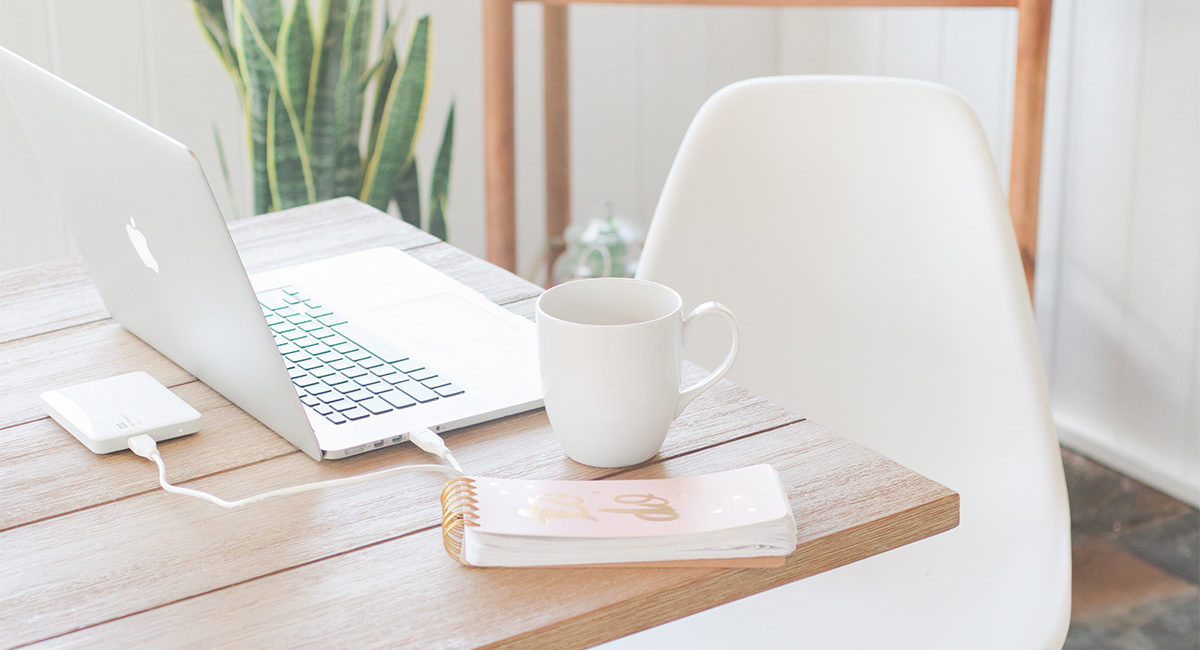 5 Questions to Ask Your Web Designer About SEO
I got a very distraught SEO inquiry from a wedding photographer a couple years ago. After she had poured money into an expensive website redesign, her leads had dried up.
She was panicking about bookings for the next season.
She had an idea of the problem: For years, she had ranked on the first page of Google for "[her city name] wedding photographer," which brought her a significant number of inquiries.
But after her website redesign, her ranking had dropped and dropped and dropped some more.
She had fallen from Page 1 to page 7 of Google for her most important keyword, and her traffic was cut in half.
The most frustrating part? The web designer for her new site had told her that her the site would be "SEO friendly." She thought that meant her designer had SEO knowledge. She was wrong.
In fact, after I took a quick glance at the new site, I could see some significant technical problems that her designer had missed. The site was beautiful for sure, but it was badly coded and full of broken links. It was a mess.
Rankings Drops: A Common Problem After Website Redesigns
I wish I could say I'd only heard a story like this once. But… I get inquiries like this all the time:

Every wedding pro who invests in a new website assumes it will bring them more traffic, more leads, and more bookings.
Unfortunately, I've seen time and time again that that's not always the case.
A web designer who doesn't understand SEO can hurt your site and your business more than they help.
So how do you know if they actually know their stuff? I've prepared a few questions below that you can ask your web designer before hiring them.
If SEO is critical to your business, don't just assume your favorite web designer is an SEO expert.  Ask these questions first.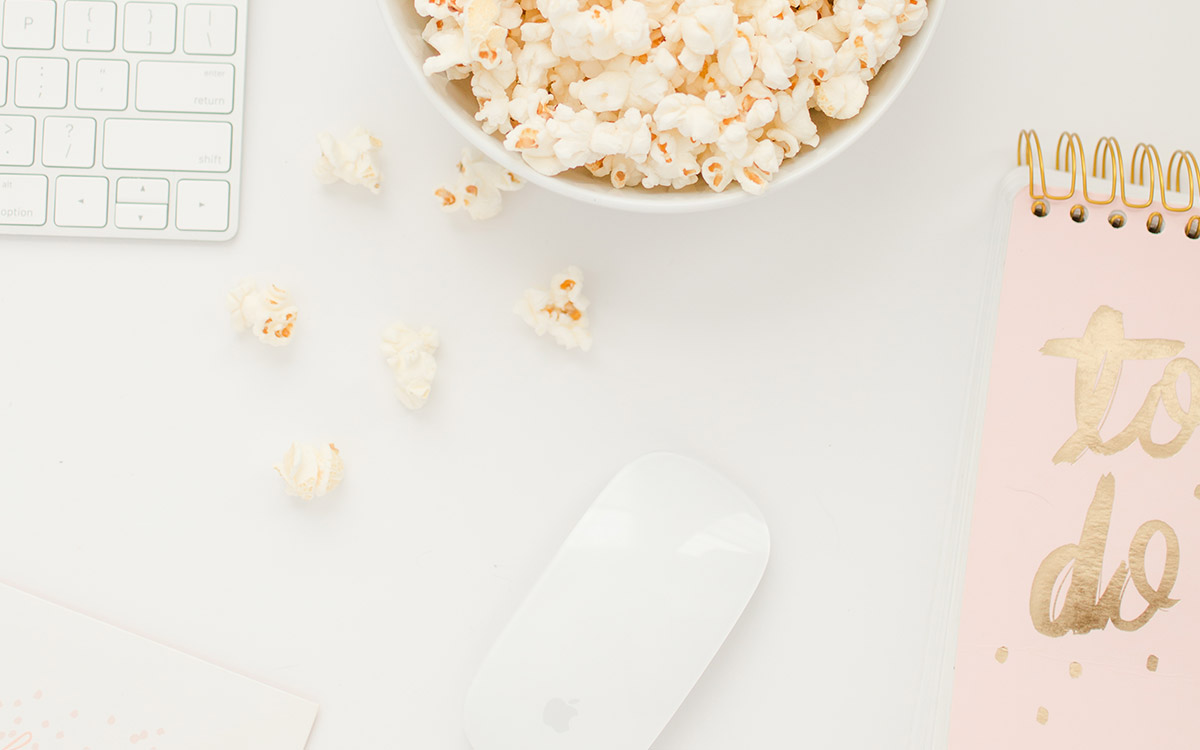 Questions to Ask Your Web Designer About SEO
These questions are best asked when interviewing designers before hiring one.
Keep in mind—a web designer doesn't need to have perfect answers to all these questions. You can always hire an SEO expert to guide your website structure, optimize your content, and audit for issues before launch.
These questions are intended to help you understand if your web designer knows about SEO or not. Then you'll know if they will help your SEO and preserve your rankings or if you should budget for additional SEO help (like our SEO Fix service for wedding pros).
Will you transfer all of my content?
What you want to hear: "Yes, and we will check it for broken images and broken links, to make sure it's fully, completely transferred."
Why: It can be a lot of work to transfer all the content from your old website to your new one, especially if you are switching platforms (WordPress to Squarespace, Squarespace to Showit, etc.)
Many web developers will charge extra for migrating content. Or (SEO red flag!), they will encourage you to start over and not migrate any content. 😱
Not transferring old blog content to your new site is a mistake.
An archive of high-quality content is great for your search engine rankings. It makes your site look more established, and it provides more content for Google to analyze and index.
In addition, you may have old blog posts that are actually bringing in decent search engine traffic for you. You should always check your Google Analytics to see which posts, pages, and galleries on your old site are bringing you traffic. If you don't migrate that content to your new site and make sure to redirect the old URL, you'll lose that traffic.
Will you make sure all my old URLs are redirected?
What you want to hear: "Yes. We will make sure to review your sitemap of all the pages on your old website and make sure those URLs are redirected on the new site."
Why: When your new site launches, what we absolutely need to avoid is having every old URL now broken.
As an example, let's say your old About page was yoursite.com/about but now it is called yoursite.com/meet-us. You need to make sure /about redirects to /meet-us after launch.
Google has listed all your old URLs in the search results and analyzed the value of those pages. If you don't redirect URLs, you will lose any SEO value assigned to the old pages and essentially have to "start over" with Google.
Not redirecting URLs is the biggest culprit I see for post-launch rankings drops.
In addition, you don't want your website visitors to end up on broken pages. Someone may have linked to your old About page or an old blog post. If a visitor clicks that link, do you really want them to end up on a 404 page?
Make sure someone (you or your web designer) redirects all the URLs on your old site, or at a minimum your major pages and most visited blog posts.
What is your approach to SEO for my new website?
Alternative: What exactly will you do to help my SEO?
What you want to hear: There is no right answer here, but make sure to listen and understand how extensive the SEO work will be.
Why: So many people tell me "My designer is doing SEO for my new site" but I don't think they really understand the extent of the work or the results they should expect.
Just because you're being told your new site is "SEO friendly" or involves "keywords" doesn't mean it will actually rank better on Google.
A web professional with a real SEO plan would go through some of these steps:
Keyword research, to help you identify keyword opportunities
A keyword to page map, showing which keywords they're optimizing for on which pages
Editing and optimizing the content you provide to better include keywords and keyword variations
Writing custom SEO titles and descriptions for your most important pages
Resizing and compressing images for faster load speed
Renaming image filenames before uploading
Adding image alt text on home page and other major pages
Set up and configuration of Yoast SEO plugin on WordPress or Showit
Setting up the site as a secured HTTPS site
Redirecting old URLs
Do you audit the finished site for broken links?
What you want to hear: "Yes, we will run your site through a broken link checker before launch."
Why: Broken links and images on a website are a quality issue. By broken link, I mean linking to a page on your site that no longer exists, or linking off your site to another website that no longer exists.
I very often audit websites that have hundreds of broken links, especially sites on the Showit platform, where boxes or content areas are often linked to something without anyone even realizing it.
A good broken link checker will find these issues (I use a Site Audit on SEMRush, or you can try a free broken link scanner). Then you or your web designer can fix the links to avoid Google's crawler or your visitors from reaching dead ends when clicking.
Do you have any examples of how a new site has helped a past client's SEO?
What you want to hear: "Yes, here is a past client's site whose organic search traffic increased after launch." or "No, we aren't SEO experts, so we don't monitor SEO results."
Why: If a web designer is promising that your new website will help your search engine rankings, they better have evidence they've done it before.
Evidence could come in a few forms:
A screenshot of Google Analytics showing an increase in organic search traffic after launch.
A tracking of ranking improvement using a rank tracking tool
A couple examples of websites that rank on the first two pages of Google for important keywords
If they can't produce any evidence that they're doing SEO that works, don't just assume a new website will automatically increase your traffic.
Keep in mind that "no" is a totally acceptable answer to this question. You aren't hiring them for SEO, so they may not track results the way an SEO company would. We're just trying to help you understand how much your designer knows and cares about SEO.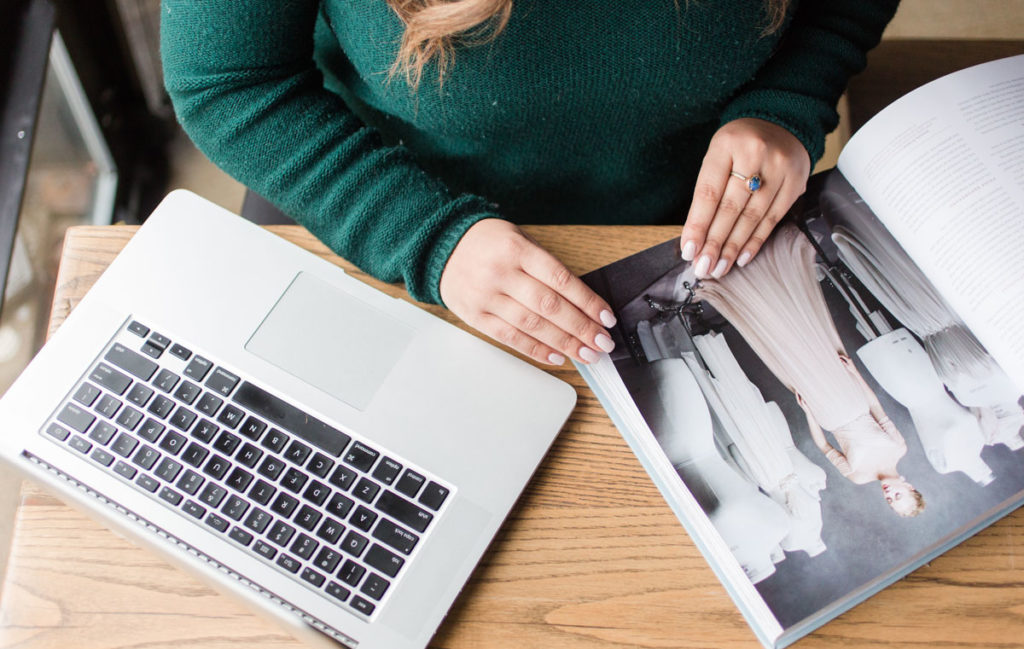 When Hiring an SEO Specialist Is a MUST
There are two high-risk situations in which I highly recommend hiring an SEO specialist. This is someone who focuses solely on search engine optimization, who can audit and fix issues on your new website before launch.
Situation #1: If you're changing domain names
Does your new website involve a brand name change or domain name change? (For example, you're switching from bradsphotography.com to bradandjoanne.com).
If your domain name is changing, I highly recommend working with an SEO specialist. This is especially true if your old domain name has been around for 3+ years, and you've gotten links and mentions from other websites and publications.
An SEO specialist will help you make sure your old domain is properly redirected, and all SEO value passed to your new site. If this is done wrong, your rankings will likely drop significantly.
If this is you, do not miss this article: Don't Let Your Domain Name Expire – Why You Need To Keep it Forever
Situation #2: If your current site ranks well, and search engines bring you business
Handling SEO carefully in a redesign is critically important if your current site ranks well and Google is a major source of your inquiries.
This is what the photographer who contacted me missed. Her website was a very important marketing tool for her, and she didn't ask the questions she needed to to make sure her web designer would protect it.
A website that used to bring her regular inquiries could no longer be found on Google, which meant she saw a huge drop in inquiries and bookings.
If this sounds like you, hire an SEO specialist to invest in protecting your business and your peace of mind. If your visits and bookings tend to come from referrals and social media right now, this may be less important for you.
If you're not sure who to hire, my SEO Fix for Wedding Professionals is the perfect SEO service to sign up for before your website launches to make sure you don't have big technical issues.
Questions for me? Concerned about what you're hearing from your designer? Comment below, and I'll be happy to share my thoughts on SEO for your new site!
Post originally published July 18, 2019 and significantly updated on February 1, 2023.
*This post contains affiliate links to a couple of my favorite tools. If you purchase after clicking these links, we may make a commission.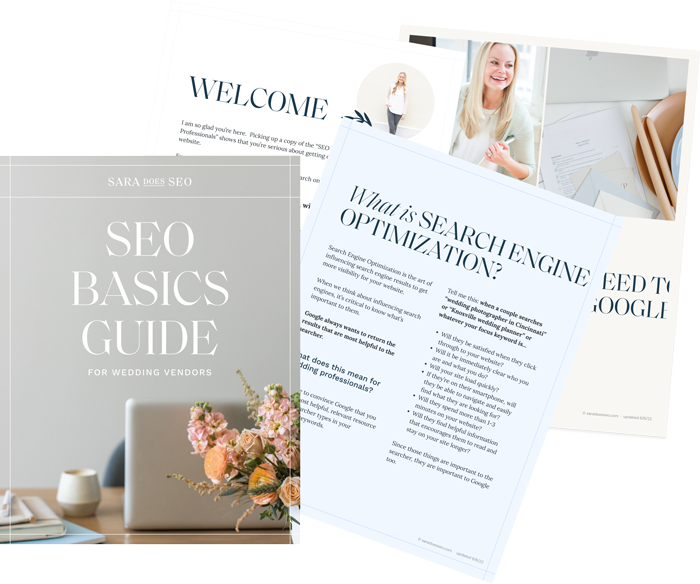 The SEO Basics Guide for Wedding Professionals
Get instant access to my top SEO tips, including only what's working right now.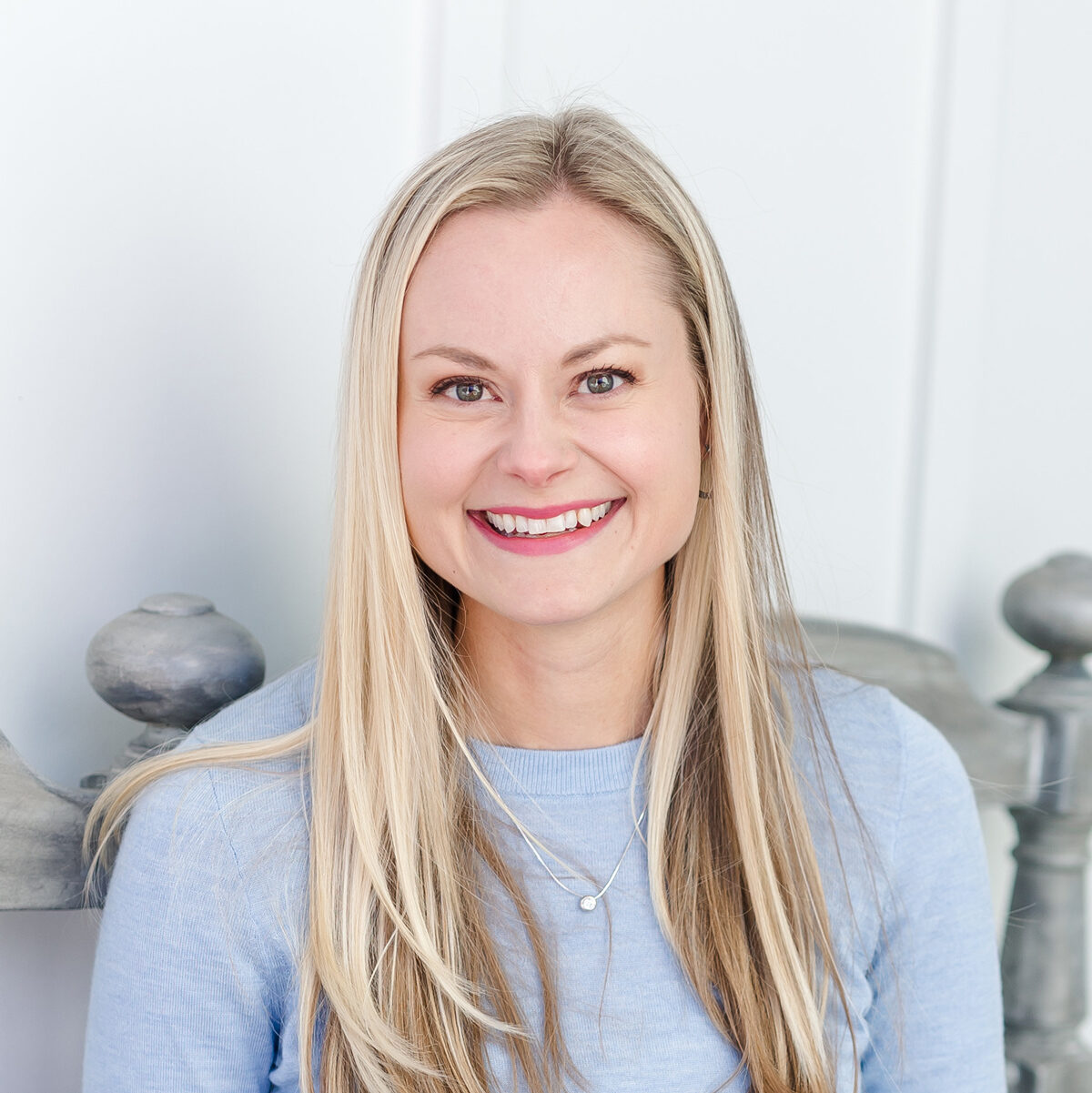 Every creative wedding pro needs a geeky best friend. Let me help you and your work get found online.