It's time for you to FINALLY get found on Google… 
Even if you think you aren't "technical enough" for SEO
You thought those confusing SEO articles you read would help you show up higher on Google.  You sprinkled a few keywords all over your site. You tried to understand what "alt text" means.
The problem?  You type in your keywords on Google and STILL have to scroll and scroll… and scrollllll to finally find your website.
After all that time, confusion, and frustration trying to figure out SEO, you still have to throw all sorts of money at paid ads to get inquiries.  Ugh.
 What if the actual problem is… You've just had the wrong teacher. 💁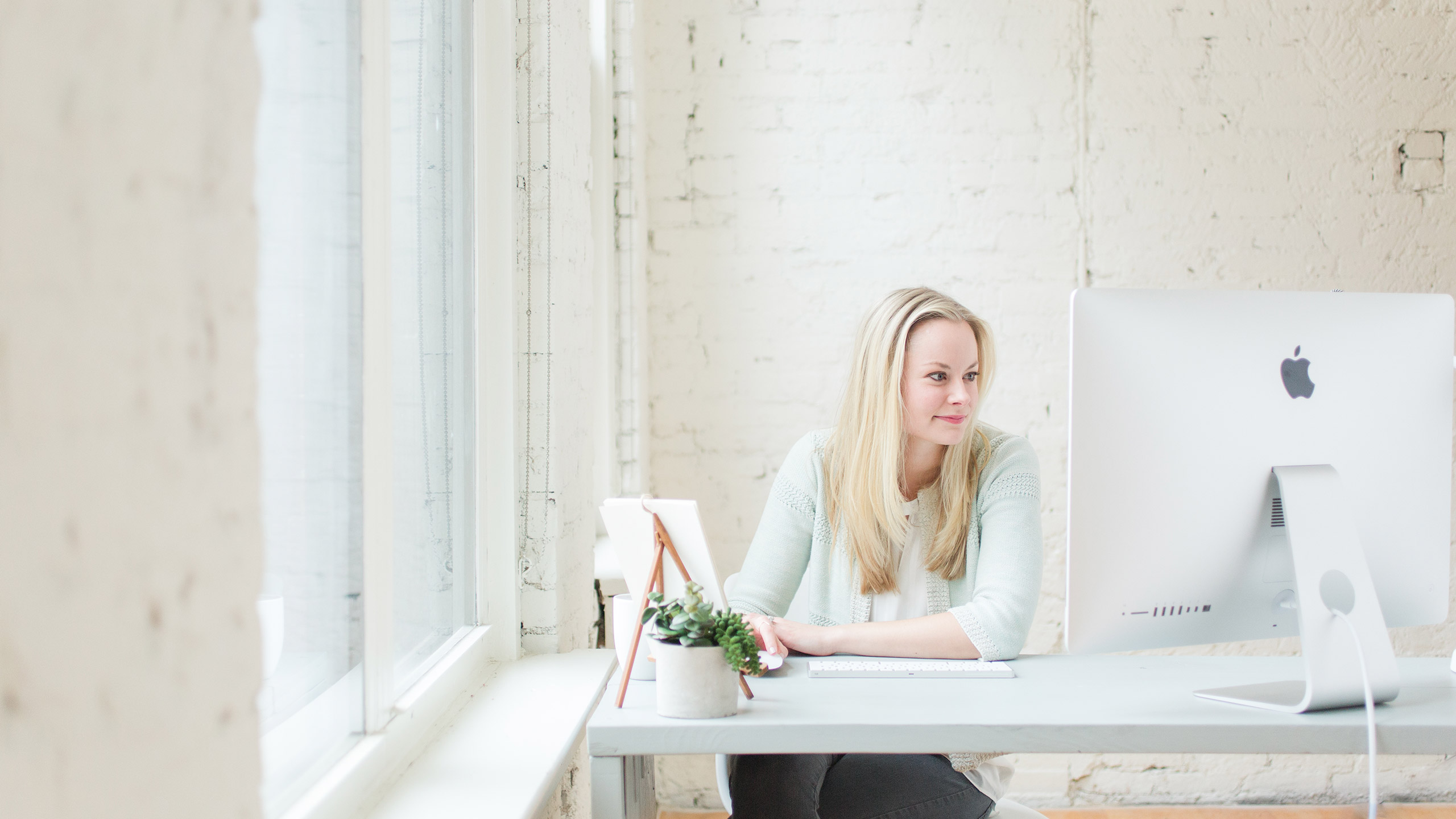 Hey, I'm Sara.
I've helped hundreds of small businesses get found on Google and bring in inquiries for years (without paying for advertising).
After working with so many wedding industry professionals, this is what I know—the reason you haven't learned SEO isn't you.
The problem is that the SEO advice you've been trying to grasp wasn't written for you, a busy, creative person.  It was probably written for techy website experts.
You need to learn SEO differently.  In a way that's JUST for wedding professionals.
That means—No crazy technical jargon.  No advice that doesn't apply to wedding industry businesses.  No making you feel dumb (ever).
When You Learn SEO The Right Way...
You'll finally understand the most profitable keywords to use, and where
You'll have a step-by-step recipe to follow to get your blog posts found on Google
You'll be able to get new inquiries organically, without paying a dime
I want to make that happen for you.  
That's exactly why I created the only live group SEO program just for wedding pros.
Introducing…
Wedding SEO Bootcamp
The ultimate SEO experience for creative wedding business owners—
wedding planners, photographers, venues, florists, and more.
You're just one week away from becoming an SEO pro (even if you're not technical!)
Wedding SEO Bootcamp is April 13-16, 2020!
In just four training sessions, you'll learn how to:
Choose the

right keywords

, so you're not stuck using the same keyword phrase over and over

Follow a

step-by-step process for blogging

, so those posts you work so hard on

finally

get you traffic

Avoid bad, outdated SEO advice

that might

hurt

your rankings

Track your SEO results

over time, so you know that your SEO efforts are actually working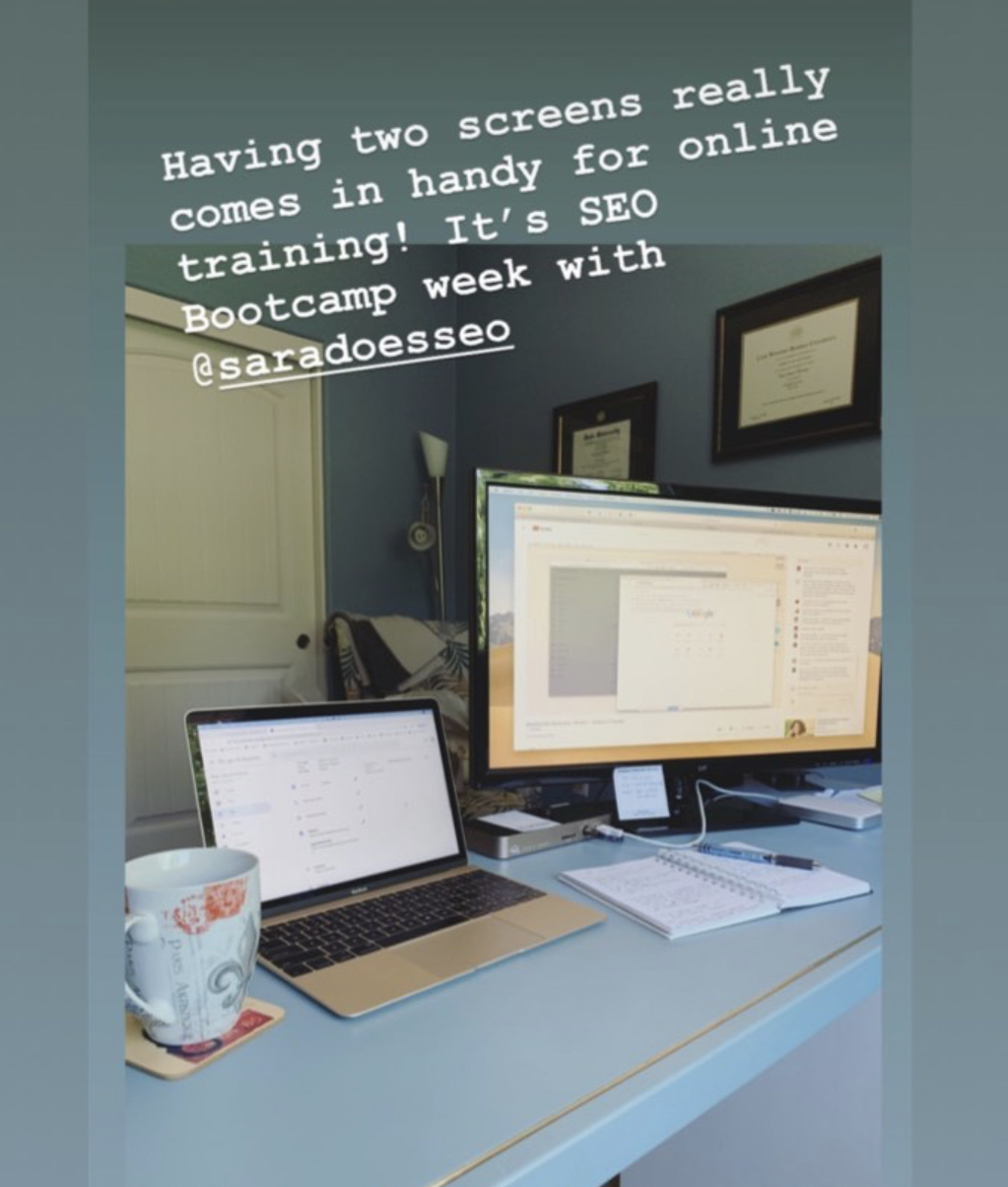 Here's What Past SEO Bootcampers Are Saying...
"I felt like I knew nothing going in!"
"My website wasn't ranking at all prior to Bootcamp (well...I stopped looking after page 15 lol) and now it's on page 4! I can't wait for it to reach page 1!"
— Kellie Hetler, Hetler Photography
"I learned so much from Sara and the other participants! "
"It was great to have the bootcamp geared for wedding professionals. All the SEO examples were specifically targeted to wedding planners, photographers, venues, florists, and filmmakers."
– Michelle Uhrbom, Mount Peak Farm Wedding Venue
Here's Your
Wedding SEO Bootcamp Training Plan
SEO Basics & Keywords
SEO basics (I'll keep the theory stuff short)

Keyword workshop (finally create a list of good keywords to go after, and know why)

Figure out where you rank right now
On Your Site: Let's Optimize It!
Choose the best keywords for each page on your site
Learn exactly how to optimize a page for good SEO—where to put your keywords and why
Optimize your home page for your most important keyword
Blogging for SEO
Learn my step-by-step process for optimizing a wedding recap post
Choose keywords for your blog
Optimize your blog images to get found in Image Search
What to do with categories and tags
Off Your Site: Listings, Backlinks & Reviews
Optimize your Google My Business listing to show up on the map
Discover what links you (and your competitors) have now
Get my secrets for gaining high-quality links
Top strategies to get more Google reviews
When you join me for Wedding SEO Bootcamp, you'll get:
Exclusive Trainings, Checklists, & Coaching (valued at over $1350)
12 SEO training videos, split into 4 days of lessons
4 Live Q&A sessions to ask all your SEO questions
Home Page Optimization Checklist
Setup video for Google Search Console
Recommended Free SEO Tools Checklist
Online Q&A in my exclusive clients-only Facebook group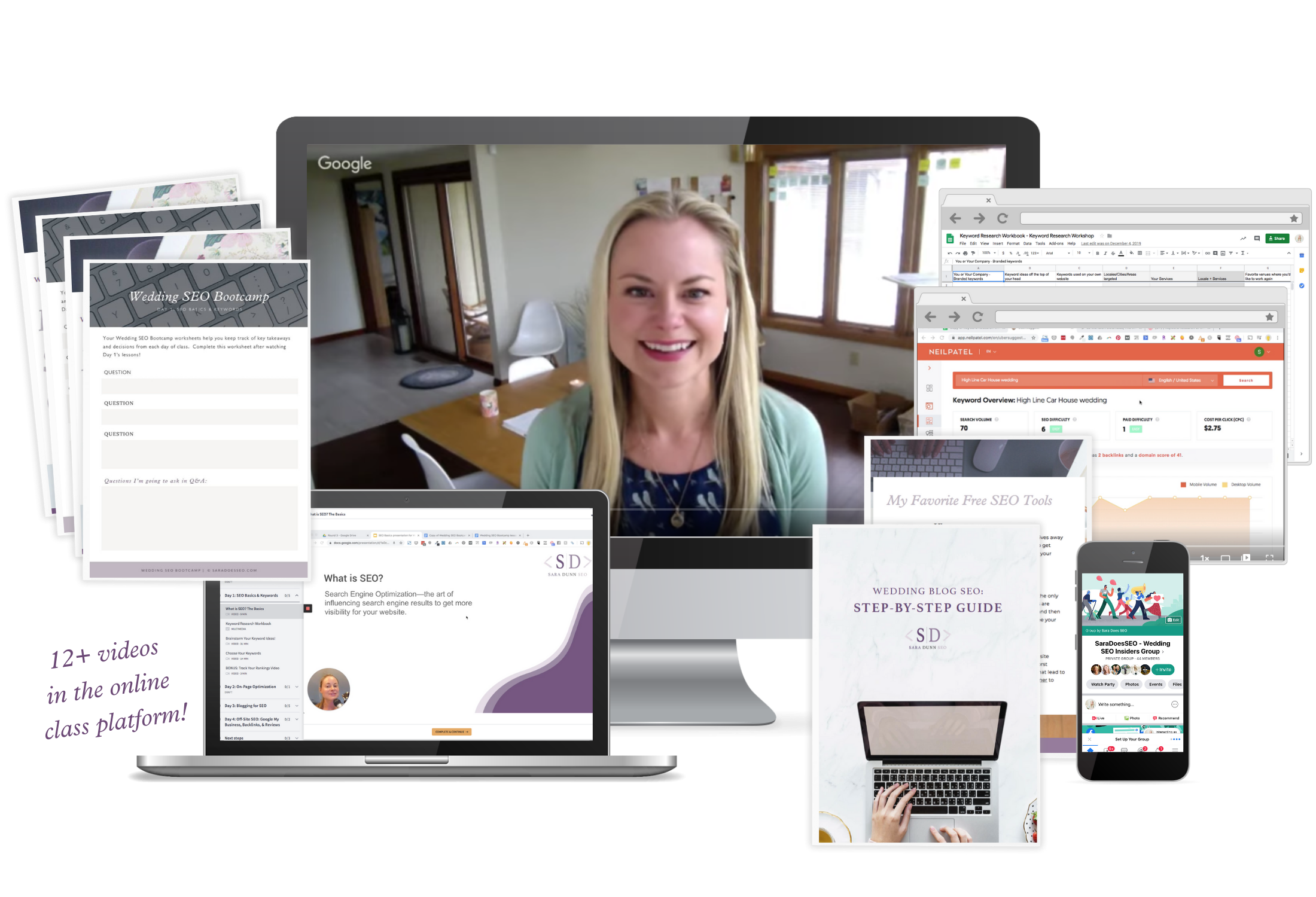 PLUS—These extra bonuses!
These extras cost over $500 when purchased separately!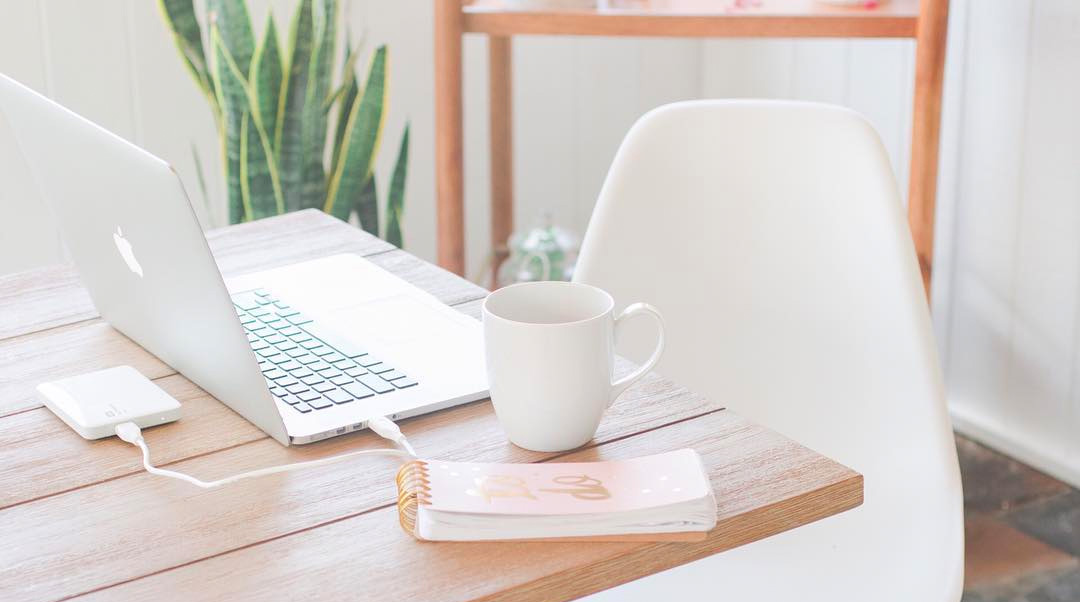 BONUS 1:   Wedding Blog SEO: Step-By-Step Guide PDF, so you can follow the blog optimization process every time
BONUS 2:  Track Your Rankings Video, so you know how to monitor your improvement
BONUS 3:   Keyword Research Workbook to keep track of all your awesome keyword ideas
BONUS 4:   Blow your competitors' review numbers out of the water with the Review Magnet Email Templates
BONUS 5:   Over 6 hours of extra on-demand SEO training with access to all 14 of my SEO Lunch & Learn videos

Your results could be just like Heather's: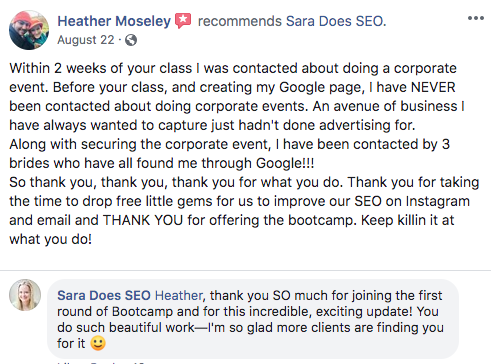 Now is the time to finally learn SEO
(and spots are actually, seriously limited)
Wedding SEO Bootcamp is live, and I will be answering your questions during live Q&A every day.  I can't make that happen if there are 1000 people in class.
So—This round of Bootcamp is limited to just 45 participants.  The first 45 to register.
*Note that January's Wedding SEO Bootcamp sold out in less than a week!  So if you know you want in, don't wait.
"Everyone should take Wedding SEO Bootcamp with Sara."
"I am super hands on, and love learning and implementing strategies myself so I can dig deep and really see how they are working. It made me feel so connected to my new brand to implement the new SEO strategies Sara spoke about so effortlessly."
— Sarah Blessinger, Kindred Weddings and Events
Frequently Asked Questions
Who is this Bootcamp for?
I specialize in SEO for the wedding industry, so this is a perfect class if you're a wedding planner, photographer, videographer, venue, or floral designer who wants to show up higher in Google searches.
I currently focus on SEO for North America, so this Bootcamp is best if you are in the United States or Canada.
When are the live Q&A sessions?
To accommodate time zones and schedules, the Q&A will be at varying times:
April 13 from 3-4pm Eastern
April 14 from 7-8pm Eastern
April 15 from 3-4pm Eastern
April 16 from 10-11am Eastern
Sessions may run long if we have lots of questions.  I want to answer them all!
The Q&A will be streamed live online via a private YouTube link.
Will the Q&A sessions be recorded if I can't make it live?
Yes! Sessions will be recorded and replays available immediately. If you can't make it live, you can submit questions in advance, and I'll make sure to answer them.
Yes, Round 3 is limited to 45 participants. I want to make sure each participant has time to ask allllll their SEO questions.
Will you be offering this again?

Yes.  If everything is too crazy for you right now to focus on SEO, I totally understand.  I also understand that now is a great time for some to work on their businesses.  If this round isn't for you, I hope to see you in the future!
What kind of results can I expect?

You'll leave Wedding SEO Bootcamp with a well-optimized home page, a great keyword list, a step-by-step process for optimizing your blog, and new backlinks.  You should see rankings improvement within days.
Whether you make it to Page 1 depends on the competition in your area, the quality of content on your website, your existing links and reviews, and many other factors.
"SEO felt like just another thing on my plate to learn."
"At SEO Bootcamp, I loved implementing everything Step by step with Sara, because that is really where I fail on online courses is doing the implementation. Sara made it so easy as we all did it together!"
— Sarah Thomas, Sarah Joann Photography
Sounds good... So what do I get?
Wedding SEO Bootcamp Includes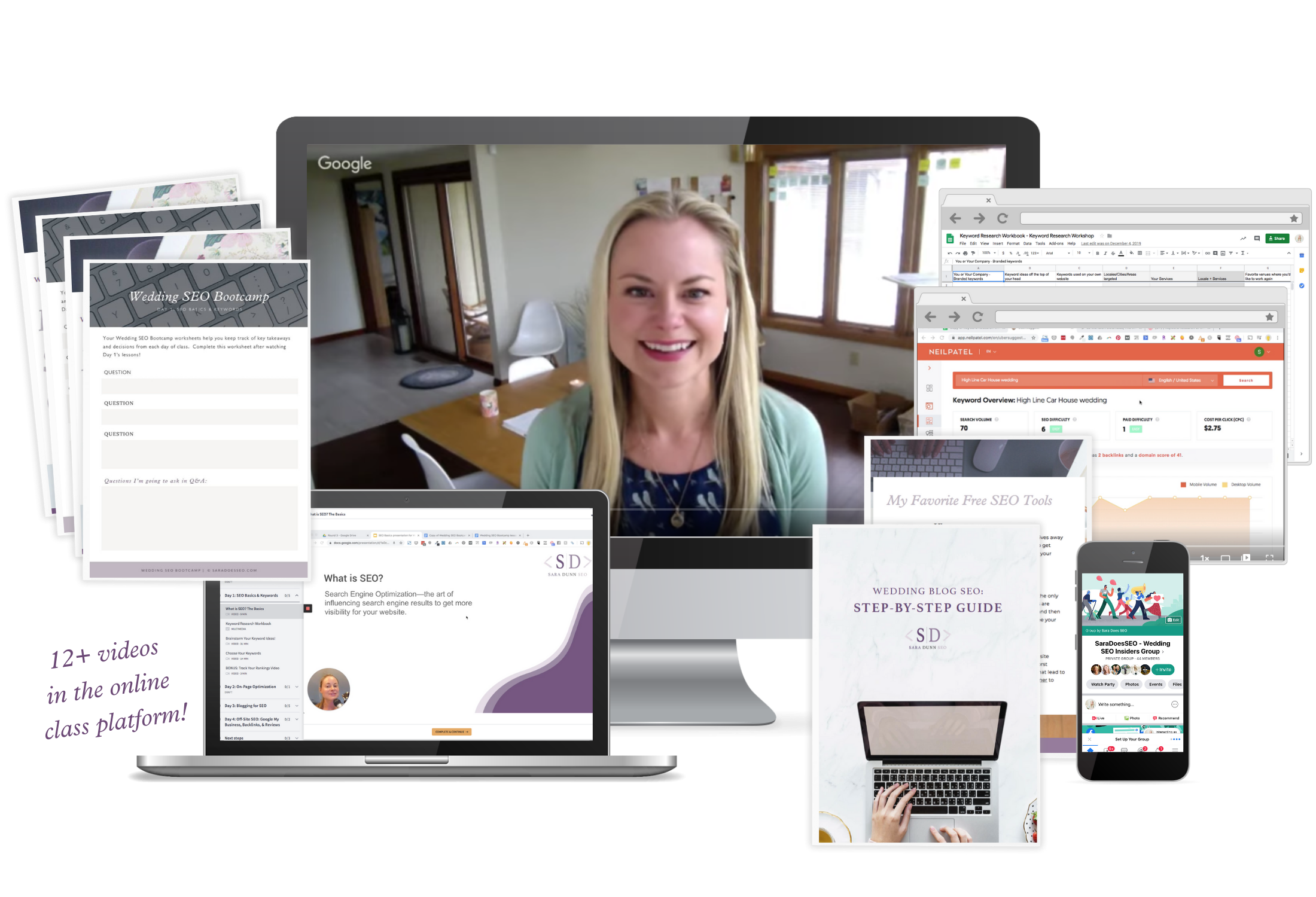 ⠀12 SEO training videos, split into 4 days of lessons⠀($750 value)
⠀4 Live Q&A sessions to ask all your SEO questions⠀($400 value)
⠀Home Page Optimization Checklist⠀($29 value)
⠀Setup video for Google Search Console⠀($29 value)
⠀Recommended Free SEO Tools Checklist⠀($19 value)
⠀Online Q&A in my exclusive clients-only Facebook group⠀($125 value)
Plus these bonuses (for free!)
✓ 

BONUS: Wedding Blog SEO: Step-By-Step Guide PDF⠀($111 value)

✓ 

BONUS: Track Your Rankings video⠀($29 value)

✓ 

BONUS: Keyword Research Workbook⠀($37 value)

✓ 

BONUS: Review Magnet Email Templates⠀($37 value)

✓ 

BONUS: 14 past SEO Lunch & Learn videos⠀($127 value)

✓ 

SPECIAL BONUS: 1 year of access to my SEO Resource Library⠀($170 value)
Total Value: ($1860)
Round 3 Price: Just $347!
(or 3 payments of $127)
"I think you must have put a lot of preparation time into this course, and it paid off!"
"I would definitely recommend SEO Bootcamp! I now have pages of notes with specific instructions on what to do to optimize my site, my blog posts, my Google My Business page. I have tips on how to craft the best, most SEO-friendly wedding recap post. And I have resources to help me.
Plus, I connected with other wedding pros through the chat and the Facebook group, and it was nice that we're all in the same industry, so our struggles are similar."
— Risa Weaver-Enion, Risa James Events
Are you ready to whip your SEO into shape?
Let's shed the weight of having a fabulous website that gets 0 traffic.
Let's end the frustration of Googling your keywords and scrolling page after page to find your site in the results.
Let's toss those old, random SEO tips in the trash.
Your future clients are searching for you.  Let's make sure you get found.
I'll see you in class!
Sara