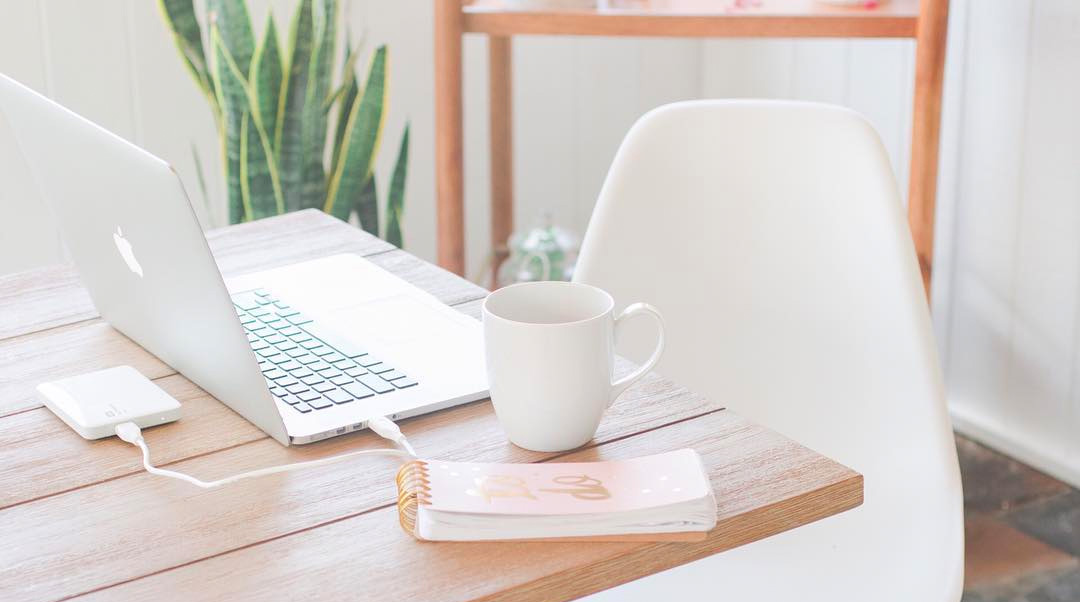 What is a Meta Description?
If you want your site to show up in search engines (and you want people to actually click on it), you need to consider your meta descriptions.
A meta description is the paragraph of text that describes your web page's content in the search engine results page. The meta title is the clickable title above that description.


I honestly think the names "meta title" and "meta description" are a little too techy for how simple this concept is. If it helps, consider them to be the "search engine title" and "search engine description."
In general, when you enter these for your website, they show up only in search engine results, nowhere on the site itself.
Whatever you call them, meta descriptions are important. This is the first interaction a searcher has with your brand and website. It's what helps them decide if they click on your listing or someone else's.
A meta description should:
Be compelling
Spark interest
Clearly explain what the page is about
Include your focus keyword
Be written as a readable paragraph, not a list of keywords
Be unique to that page, not the same on every page
A Video Explaining Meta Descriptions
From my TikTok, here are do's and don'ts for home page meta descriptions in 30 seconds:
Where Do Meta Descriptions/Search Engine Descriptions Come From?
Meta titles and descriptions are either written and entered by you, or automatically generated by the search engine.
Most website platforms have a way for you to enter meta titles and descriptions for each page. It may be in the page's settings or a settings box on the page editor. This varies a lot depending on which platform you use. I'll include instructions for writing meta descriptions in WordPress and Squarespace below.
But what if you don't enter a custom meta title and description? Your website may still show up in search results, but the search engine will default to pulling in information from the page itself. This may be decent information, but it may also be garblygoop.
Check out this website's automatically generated meta title and description. Would you want to click on this?

The website owner has definitely not entered a meta description there and left it to Google to figure out what to display. What a mess.
In contrast—Would you be more likely to click on this result, where the company has clearly entered a meta description and made sure it reads well?

I bet the second result here is more compelling for you and most searchers to click.
So it's important that for your key pages and posts that you enter what you'd like to show in search engine results.
But Know—Your Meta Description Won't Be Used Every Time
As a heads up, even if you enter a meta description for your page, that doesn't mean that Google has to show it.
Google wants to help their searchers find the most helpful pages possible. That means that sometimes, their robots might decide that a different description for your page would be more helpful for the searcher. So they'll override your description.
In a 2017 study, Moz found that meta description tags were used 35.9% of the time, and Google generated a description the rest of the time. I have found with wedding-related websites, this is much higher, so I still highly recommend writing a custom meta description.
Do I Have to Write A Meta Description For Every Page?
No, I'm not saying that you have to go back to each one of your pages and posts and write a beautiful, compelling, amazing description for it. Would that be awesome? Sure. But I know that could take forever.
So my advice is to spend your time writing meta titles and meta descriptions for the most important pages you want to have show up in search. For wedding professionals, this is probably the:
Home page
About page
"Weddings" or key services pages
You might also consider doing a search for your own business name and seeing which pages Google chooses to show. If Google is displaying them, you want to make sure the descriptions are good.
Writing custom meta descriptions for important blog posts is also a good idea. If you have a blog post that you want to rank in search, spend a few minutes on a good, compelling meta description.
3 Tips for Writing Great Meta Titles and Descriptions
1. Include the Page's Focus Keyword
If you want your home page to rank for "Wedding Florist in Greenville TN," include that keyword phrase in the meta title and description.
Don't force it, though. Find a way to weave it in naturally into the title and into a sentence in the meta description. And don't use it on every page.
2. Use 150-170 Characters for Meta Descriptions
You've got the space, use it! How long should meta descriptions be? Experts recommend around 155 characters (not exceeding 170).
To make sure I'm using the space well, I use the Yoast SEO plugin's snippet preview for WordPress. If I'm not working on a WordPress site, I write my titles and descriptions in Google SERP Simulator to test what they will look like on Google.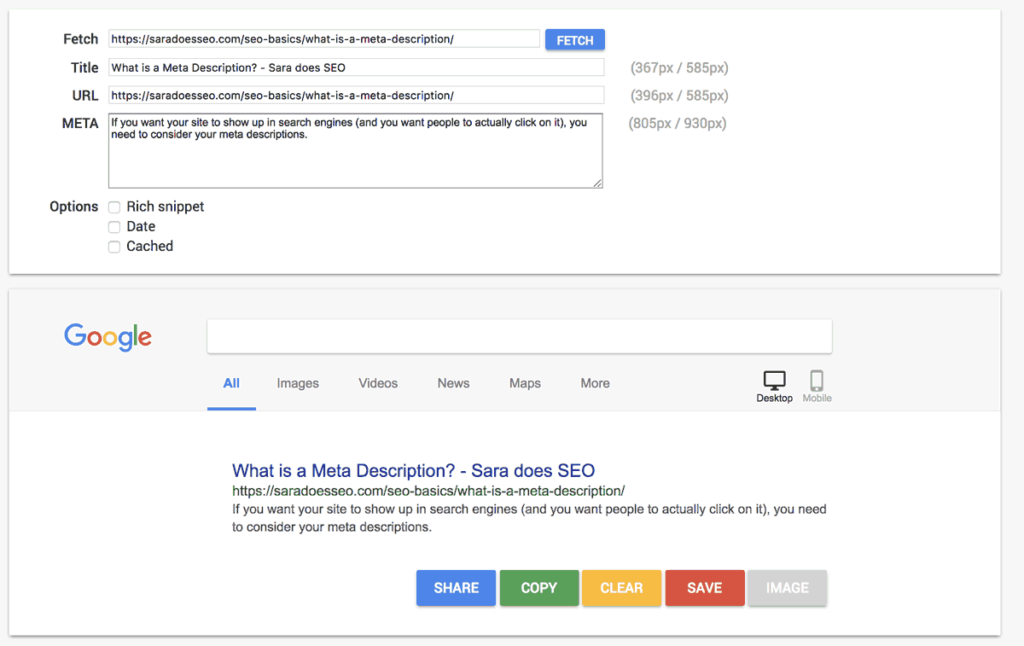 3. Think About What Would Make Your Ideal Client Click
Be creative! The meta description is the first opportunity to sell and get attention. Include what makes you different or unique—Don't just try to use as many keywords as possible.
Let's Do This—Where to Enter Your Meta Description
Meta Descriptions on WordPress
For WordPress SEO, I highly recommend installing the Yoast SEO plugin. This will give you a SEO settings box in the editor for every page and post that looks like this: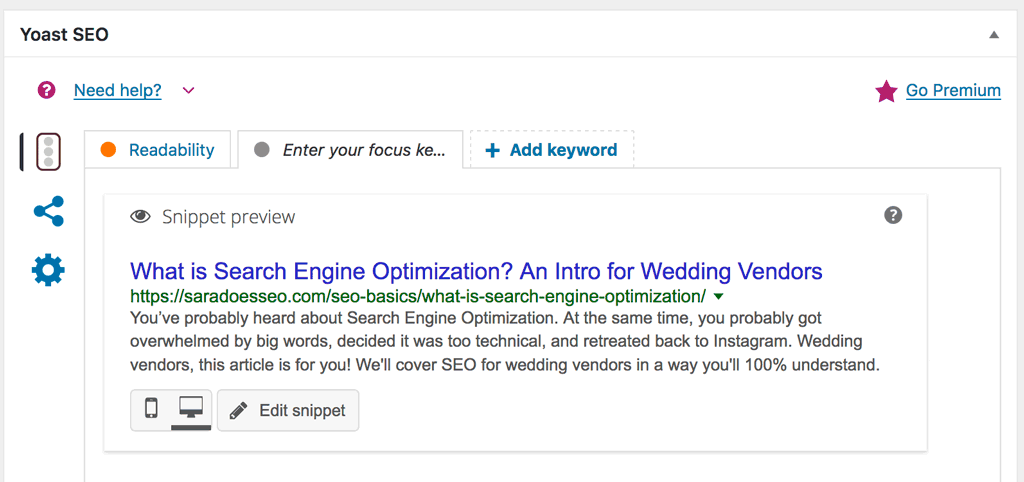 I'm seriously in love with the Snippet preview section, which shows you your meta title and description exactly how it would look on the Google search engine results page. This means you know just how much to write.
Meta Descriptions on Squarespace
Meta descriptions on Squarespace are a little harder to find. Note that they may also show up on the website page itself, so be careful to check your pages after you enter your descriptions.
For instructions, check out Squarespace's help article: Adding search engine and page descriptions. For specific instructions on the home page, check out my article How to Edit the Home Page Meta Title on Squarespace
Need some help with meta descriptions? I'd be happy to write them for you in an SEO Intensive.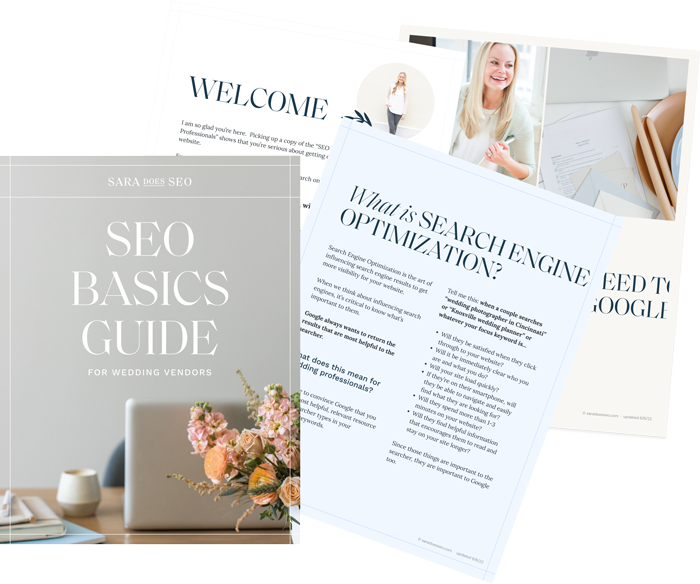 The SEO Basics Guide for Wedding Professionals
Get instant access to my top SEO tips, including only what's working right now.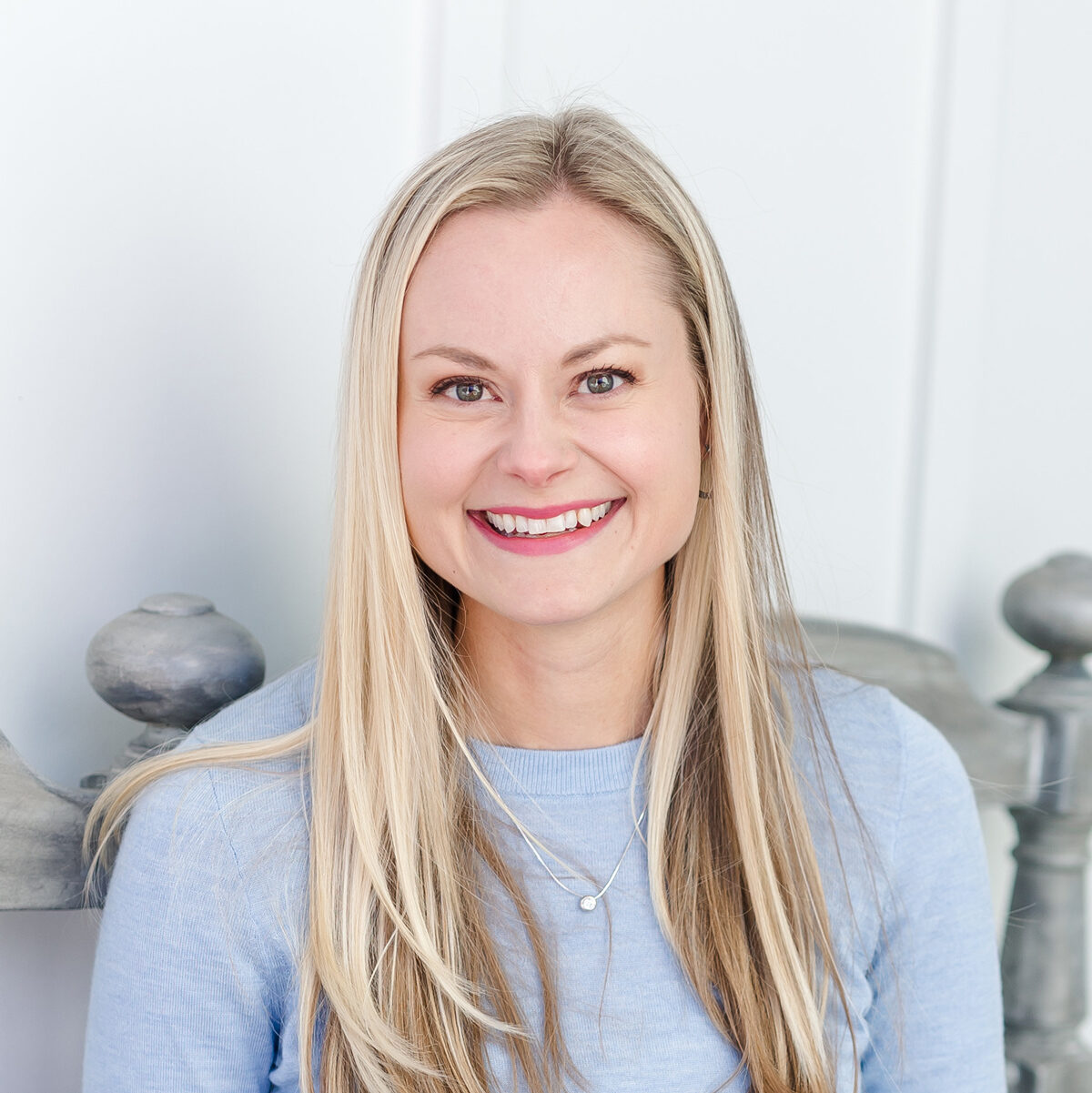 Every creative wedding pro needs a geeky best friend. Let me help you and your work get found online.