Are you just not getting as many wedding inquiries as you think you should?  Do you wish they came so regularly that you could finally choose only the clients you really want?
Search engine optimization may be the answer.  Our wedding SEO services increase website traffic and get your wedding business in front of searching, looking-to-book clients.
We work with wedding planners, photographers, venues, florists, DJs, and hair and makeup artists to finally get the visibility you're looking for.
My Wedding SEO Service Options
7 Day SEO Setup – The SEO Fix
Want to fast forward your SEO setup from 0 to Done in just one week? My trained SEO associates can help!
Help Google understand and start showing your website with this easy one-time service.
Read More & Book The SEO Fix →
In-Depth SEO Done for You – SEO Intensive
The SEO Intensive is my signature 3-month done-for-you SEO program.  This is where I take over, dive into your website, and make Google your very own inquiry machine.
So breathe easy, and get ready for big, long-term results like this: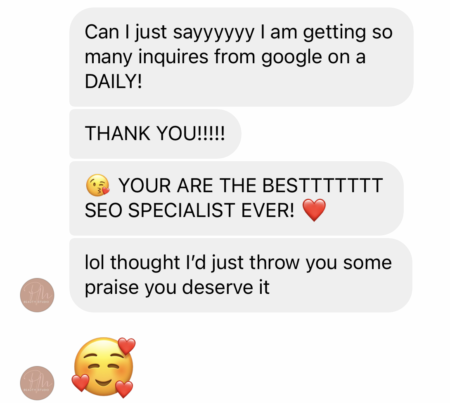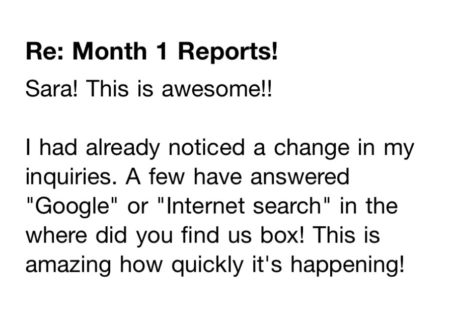 Get pricing and package information today →
---
Not quite sure? Here's why SEO Matters for Wedding Pros
SEO connects you with clients who are actively searching for a vendor to book.  Most people searching for wedding vendors through search engines are vetting their options, looking for a someone to book for their event.  Can you say the same thing about people scrolling through Instagram or browsing Pinterest?
SEO builds credibility in your area.  Vendors who show up on the first page of Google can appear to be more credible and established.  You're more likely to receive inquiries for collaborations and publication if searchers can find you.
SEO allows you to track results.  We won't need to guess if our efforts are working.  Using Google Analytics, Google Search Console, and goal tracking, we'll know which keywords are bringing in traffic, how much more traffic you're getting, and how much your leads have increased.  This is how big businesses track their marketing results, and you should too.
SEO brings results for the long term.  Buying an ad somewhere is great, but the exposure lasts for a limited time.  When you build proper optimization practices into your website and business, your site can continue to rank for the long haul.  This isn't a "one and done" kind of marketing effort.
Curious about details or pricing for these services?  Get pricing and package information today →