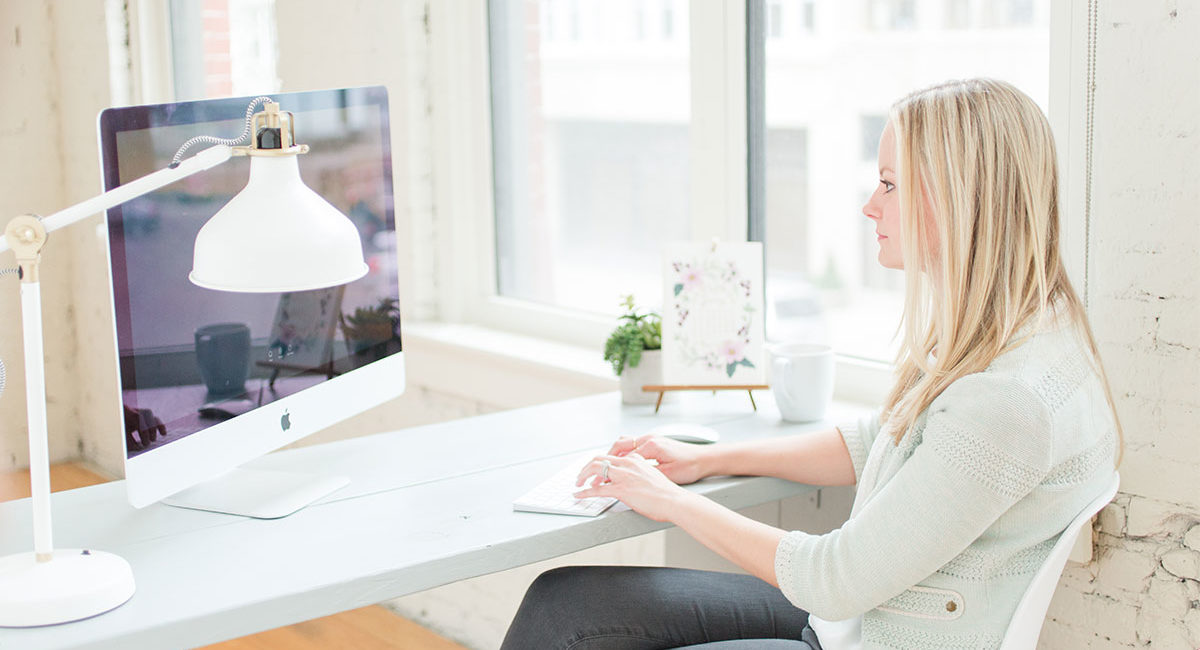 How to Check Your Ranking on Google – 3 Free SEO Tools
Does this sound familiar? When you want to check where you rank on Google, you type a keyword into the search bar and then scroll and scroll, looking for your own website.
You might miss your site or never find it. Regardless, you've spent a lot of time in the scroll.
Friends, there is an easier and better way to check where you rank on Google. Several of them, actually.
Today, let me share with you why you shouldn't search for yourself this way and how to use a few free SEO tools to check your rankings instead.
Why You Shouldn't Search on Google to Find Your Ranking
The short answer: what you see on Google isn't real. 😱
When you sit down at your own computer or pull out your phone and search for yourself, you may not actually be seeing accurate results.
Just because you see yourself on Page 1, doesn't mean that everyone else does. This is for two reasons:
Your Physical Location
More and more, Google is taking the searcher's location into account to tailor the search results to show businesses near them.
That's why if you type a general query into Google without a city included (like just "wedding photographer" or "BBQ restaurant"), you'll likely see results for businesses near you.
If you are near your own office or service area, you're likely to see your own website rank better than it might for the average searcher.
Your Browsing History
To give you the most helpful results, Google prioritizes sites you've visited before in your search results. It will show those sites higher in case you're looking for them again.

Have you visited your own website before? I'm going to guess so.
That means your own site is likely to get bumped up in the search results when you search for yourself on your own computer or phone.
Let's talk about how to avoid looking at inaccurate personalized results.
How to check your ranking for a specific keyword
Say you want to find out where your site ranks on Google for a certain keyword like "Boston wedding planner."
The advice you'll often hear is "just open an Incognito window in Chrome to get non-personalized results." That's decent advice, but Incognito does still include location-based results. And you still have to scroll and try to find yourself, which is pretty inefficient.
Instead, I recommend using an SEO tool to find out where you rank for a specific keyword.
Ahrefs Keyword Rank Checker (Free)
With Ahrefs free Keyword Rank Checker, you just enter the keyword you'd like to see if you rank for + your website URL.

Then it scans Google's results and tells you exactly what position you're in.
No manual scanning by you, and no personalized information skewing your results. Isn't this neat?

The tool gives you a number for where you rank in the Google organic search results. Positions 1-10 are generally the 1st page of Google, 11-20 are the 2nd page, etc.
So this position #10 means that this website is likely on Page 1 of Google, near the bottom.
You can make a note of this position and then re-run the tool in a month or so to see if you've improved for your keywords.
You can also repeat this process to check different keywords.
How to find keywords you don't know you rank for
I bet you have specific keywords in mind that you'd like to rank for. But did you know that your site might rank for dozens of other keywords you haven't thought of?
To see where you rank in the results for lots of searches, you can use Ubersuggest's Keywords tool.
Ubersuggest – (Free for limited results)
Ubersuggest tracks search results for millions of keywords and which sites rank for those keywords.
With 3 free lookups per day, you can find many new keywords that your site ranks for that you may not even know about.
Step 1: Go to https://app.neilpatel.com/en/traffic_analyzer/keywords
Step 2: Enter your website's URL. Change your language and country in the drop-down if needed.

Step 3: Wait for the results! Once you get them, focus on the Keyword and Position columns. In the Keyword column, you'll see a keyword you rank for on Google. In the Position column, you'll see your Position on Google (remember, positions 1-10 are generally Page 1 of Google, 11-20 are page 2, and so on—lower numbers are better).

So what do you do with this information? First, realize that there are lots of keywords you could rank for to bring you traffic, not just the one or two you have in mind.
Second, find keywords with decent volume (at least 10-50 searches/month) where you're ranking in Position 10+.
What could you do to improve your content on those pages so Google might move you up to Page 1? You might add more written content, make sure the content is updated, or use the keywords more clearly in the text.
How to find the keywords that are currently bringing you traffic
Now let's say you want to find out exactly which keywords people are currently searching when they click on your website.
There's a tool for that too.
Google Search Console (Free from Google)
Did you know that Google offers its own free tool that will tell you keywords you're ranking for and getting clicks for? It's magical.
It's called Google Search Console, and every website should have it set up (check out the setup instructions in this article).
Once you have Search Console set up, navigate to the "Performance" tab on the left. Then click the colorful buttons at the top to turn on Total Clicks, Total Impressions, Average Click-thru-Rate, and Average Position.
You should now see a list of keywords and several columns of data. If you're just curious to check your ranking, don't miss the Position column, which again shows where you rank in the results (1-10 are on the first page).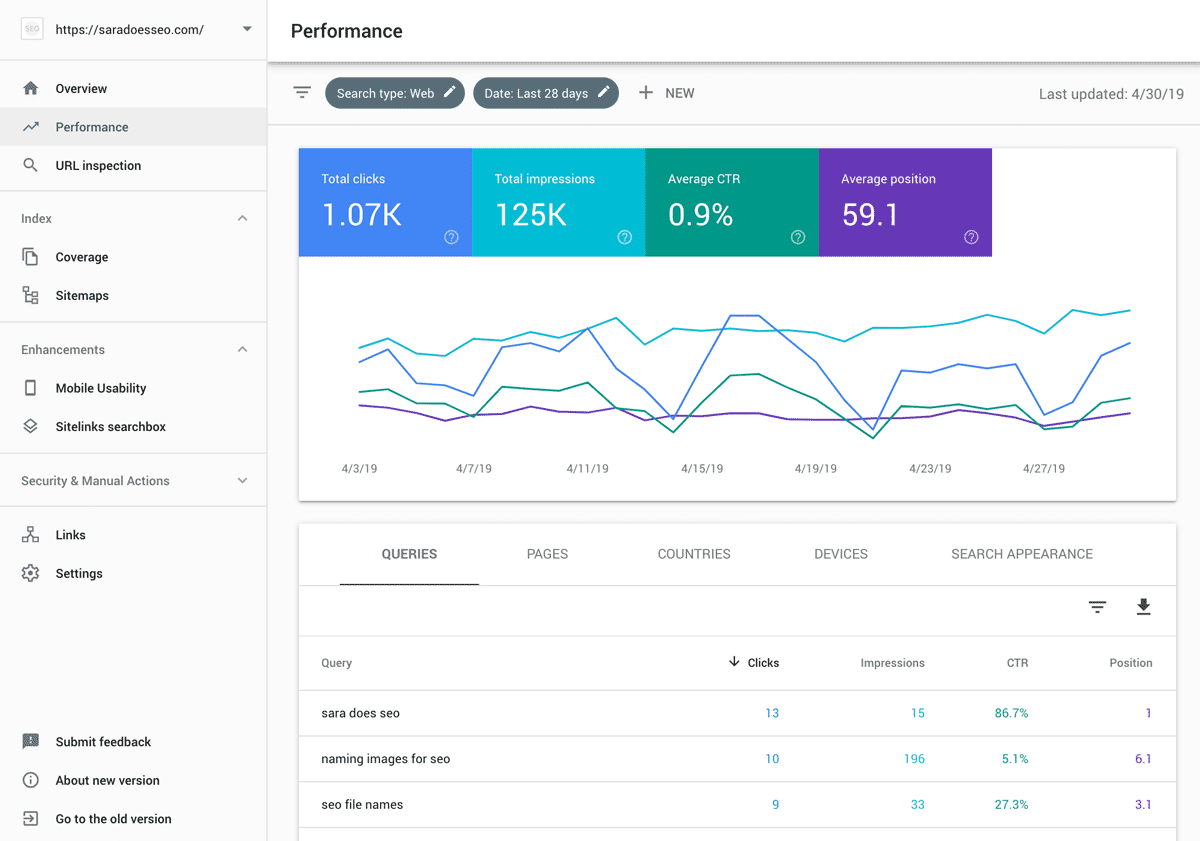 The special gift that Search Console gives you is the Total Clicks. This is the only tool that will tell you which keywords brought real people to your website. The other tools will tell you where you rank, but Search Console tells you what actually brought you traffic. That's powerful.
To make use of this data, keep scrolling down until you see keywords with a high number of Impressions that you aren't getting clicks for yet. These may be opportunities to go after.
To the next level: Paid tools
For my SEO clients, I subscribe to several paid SEO tools. These tools allow me to create a list of keywords we're targeting, and the tools track the rankings of those keywords over time, so we can see how my clients' sites are improving.
If you're interested in tracking your rankings, I highly recommend SEMRush's Position Tracking or Mangools' SERPWatcher (shown below). These tools check your rankings for specified keywords every single day, without you having to do a thing. Then, they plot your rankings on a graph so you can see if you're trending up.

Armed with these tools, free or paid, you are going to have a much better idea of how you rank for dozens of keywords.  No more search and scroll to find your rankings!
Post originally published May 22, 2019. Substantially updated on March 10, 2022.
*This post contains affiliate links to tools, so if you click on one and use a tool, I may make a commission at no charge to you. I only recommend paid tools I use and pay for myself.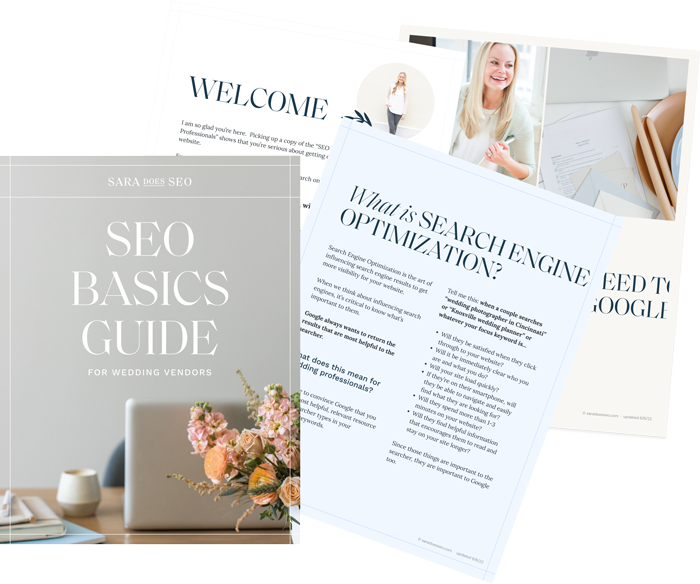 The SEO Basics Guide for Wedding Professionals
Get instant access to my top SEO tips, including only what's working right now.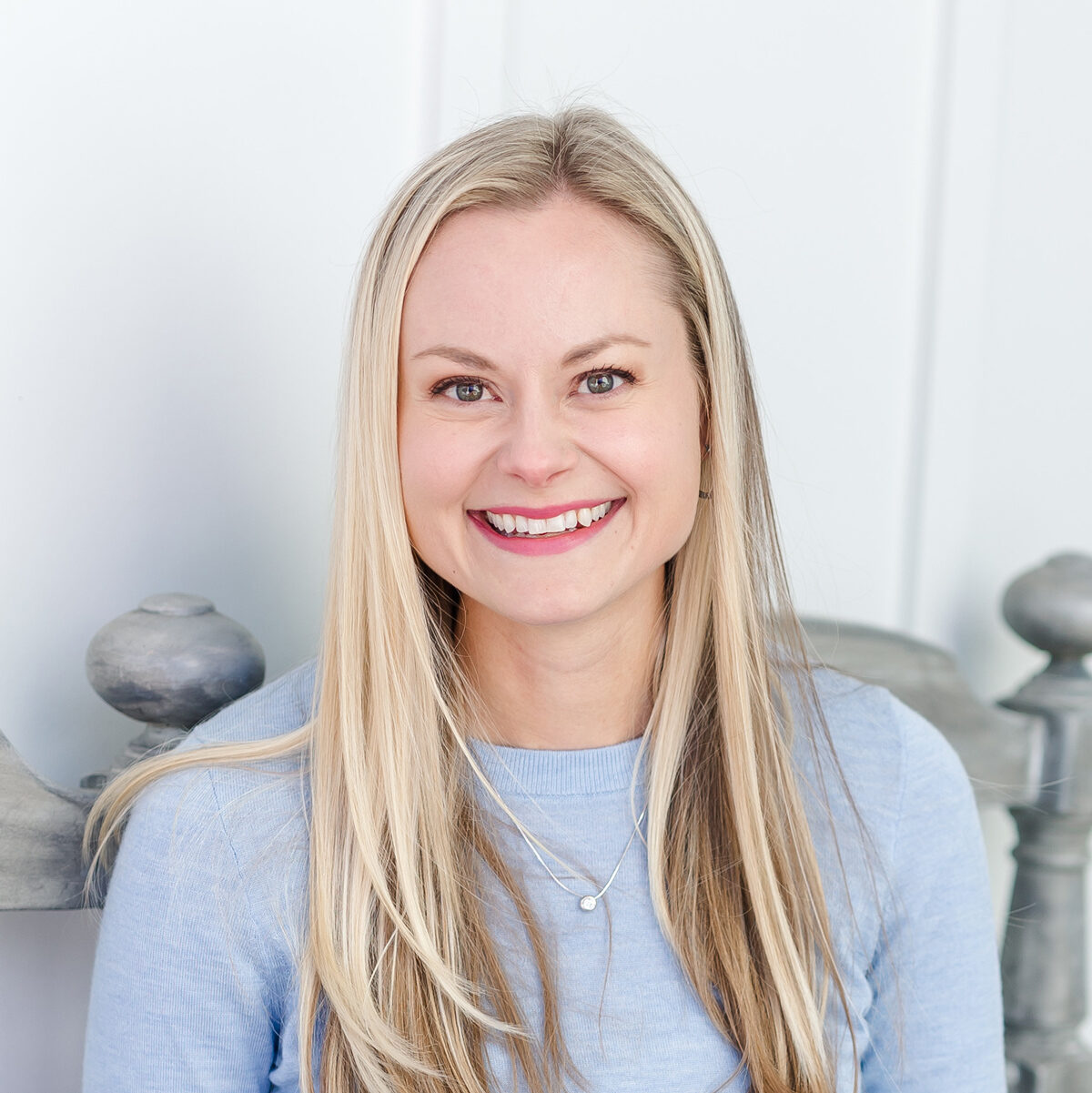 Every creative wedding pro needs a geeky best friend. Let me help you and your work get found online.