How To Edit the Home Page Meta Title in Squarespace
If you ask me, setting the home page meta title or SEO title in Squarespace is trickier than it should be.
I recommend to my wedding SEO clients that they always include their #1 most important keyword in their home page's meta title. Often, when I audit Squarespace sites, all they have in the meta title is their site name. I think it's because it's so hard to figure out how to edit it.

In this article and video, I'm going to show my simple process for editing the meta title just for the home page (not editing the Site Title, which is the wrong way to do this).
But first! A few things you should know about meta titles on Squarespace:
These instructions apply to the home page only.  Here is how to update all other page and post meta titles on Squarespace.  Squarespace calls these "SEO titles" and recently added an SEO tab in the page settings that makes this way easier (except on the home page).
I recommend sticking to about 60 characters for a meta title.  The Squarespace preview lets you have a few too many, in my opinion.
I highly recommend testing your meta title and description with SERP Simulator before adding to your site so you can see how it looks.  There, you can make sure it won't get cut off on Google (I hate that messy "…" at the end!)
How to set the home page meta title on Squarespace (Step-by-step)
Log into Squarespace and navigate to your site.
Click "Marketing" in the menu on the left.
Click "SEO" in the Marketing menu.
Scroll to the "Search Appearance" section.
With "Home" selected in the "Search Appearance" slider, paste in your full home page meta title in the "SEO Title Format" box.  I do not recommend using variables (like %s) for the home page.
That's it!  Click Save at the top and go about your business.
To make sure it's saved, you can fetch your home page URL in SERP Simulator and see if your new meta title appears.
Note: this will not update instantly in the Google Search results. It may take a few days for Google to re-crawl your site and notice the change.
This is what the SEO settings panel should look like with a correctly filled in SEO title on Squarespace:

Below is a video I made in 2019. Squarespace has since changed what this settings panel looks like, but you may still find it helpful to see how I enter the meta title and test it with SERPsim.
That's it! To learn more about how to write meta titles and descriptions, I recommend my related article What is a Meta Description?
Are you a wedding professional using Squarespace? Here's more help for you:
*This article last updated on October 22, 2020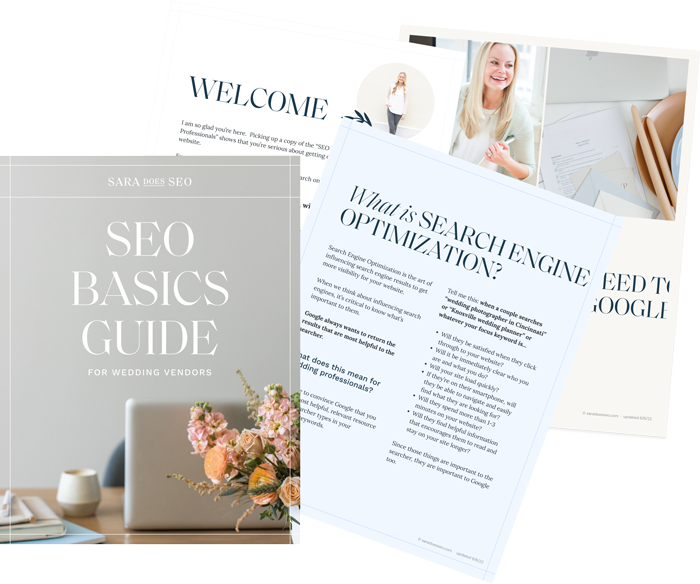 The SEO Basics Guide for Wedding Professionals
Get instant access to my top SEO tips, including only what's working right now.
Every creative wedding pro needs a geeky best friend. Let me help you and your work get found online.