Are you a wedding planner who wants to show up on Google? Search Engine Optimization is what it takes! When you work on your wedding planner SEO, it means you are using techniques that will influence Google to show your website in the searches that your ideal clients do every day.
As a wedding SEO specialist, I have worked with hundreds of wedding planners and other wedding businesses. I know the techniques that work to bring in engaged couples searching online. I want to teach those to you, because I see the power of SEO to drive thousands of inquiries.
And—the best thing about SEO is that that visibility is free! If you set your SEO up right, you can bring in thousands of local visitors to your website every year, for years to come.
So let's talk wedding planner SEO to help your business website rank higher and bring in more traffic.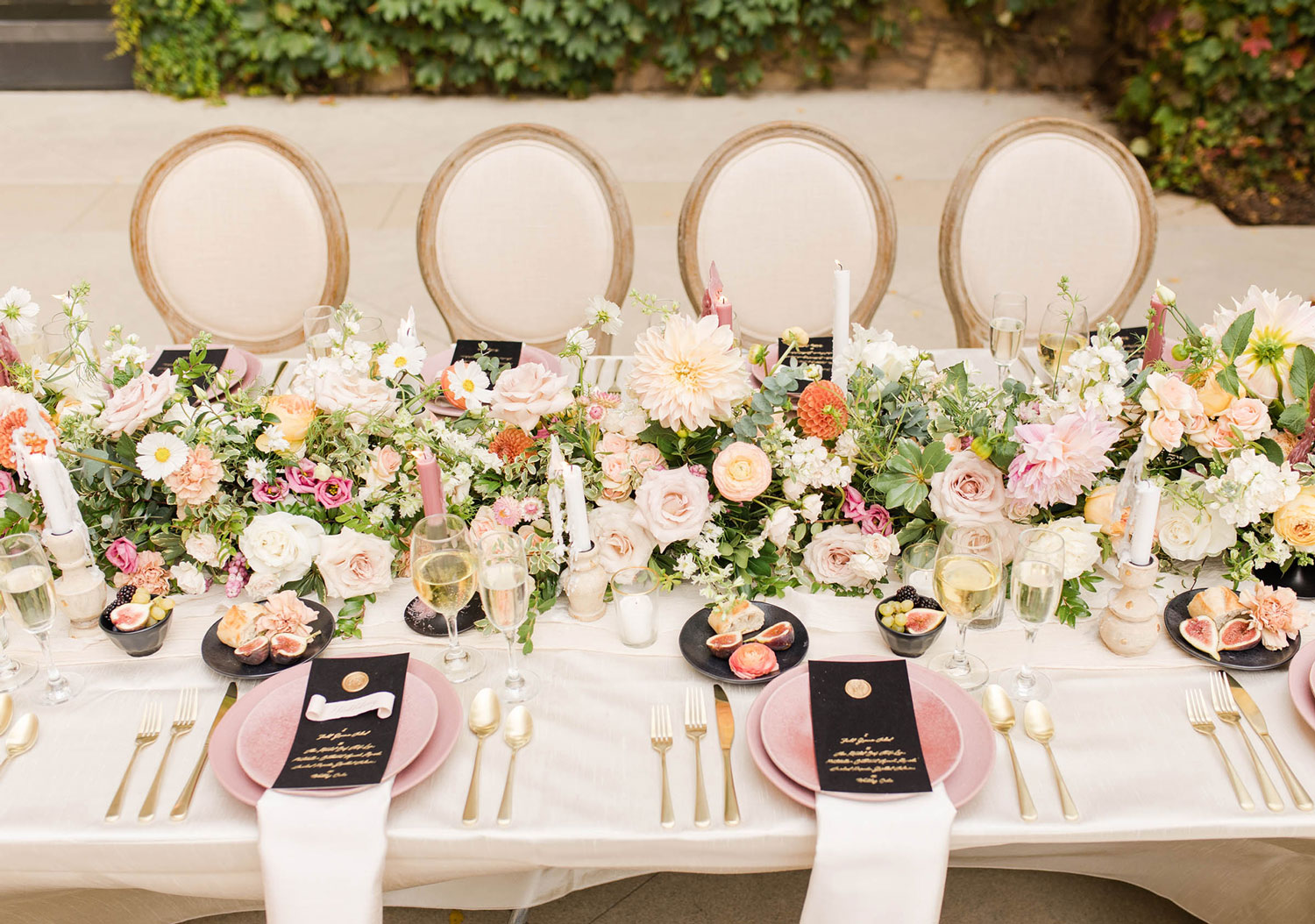 5 Tips for Better Wedding Planner SEO
Use your main wedding planner keyword on your home page
This one seems obvious, but I am always surprised in auditing client sites how many planners miss this one.
If you want to be found for a phrase like "Knoxville wedding planner," you have to use that phrase on your website.
In working to stand out and be unique, you might be tempted to write something flowery like "We coordinate heartfelt celebrations." But—if SEO matters to you, you need to be a little more literal for Google.
Make sure you write that you are a "Knoxville wedding planner" in the text on your home page. Bonus points for also including that phrase in your home page meta title and meta description.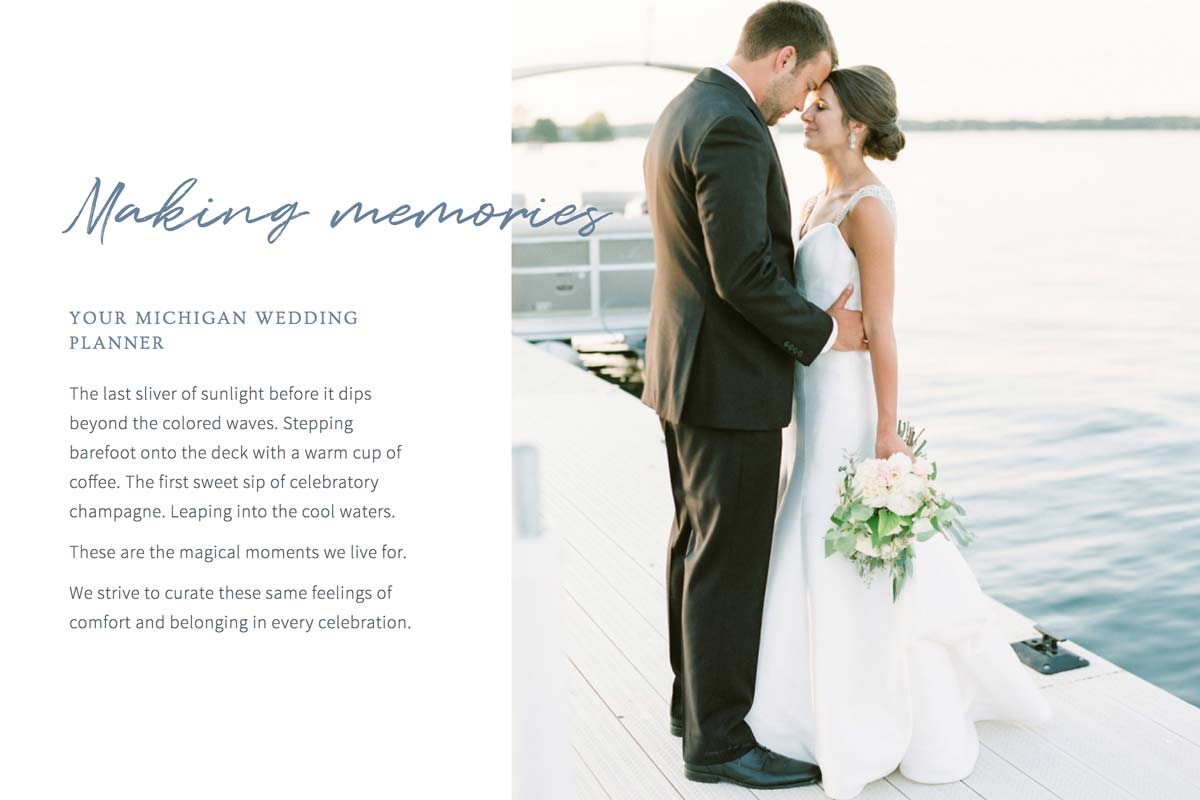 Set up and fill out your Google Business Profile listing
When you want to rank in a certain city or local area, it's important that Google understands where you're located and where you work.
To get on their "map," I highly recommend you set up a Google Business Profile. It's free and will take maybe 30 minutes to do well. Here are basic Google My Business setup instructions.
For wedding planners, here are my tips for your listing:
Set your primary category as "Wedding Planner" if you want to be found for wedding planner searches (use "Event Planner" as your primary category only if it's more important for your business to show up for event planner searches).
Make sure to upload photos of your best work. Upload at least 10 photos when you set up your listing. If you can, return every couple months to add a few more, so it stays fresh.
Don't miss the "Description" field. Here, you can write a nice description of your business to attract attention in the search results. Include the main cities you serve.
Ask for reviews on Google
Reviews on Google will really help your listing to rise in the Google map results. Make sure to ask past clients and any other business contacts to review you.
I highly recommend creating a Google review link that you can send with your request, so it's easier for your reviewer.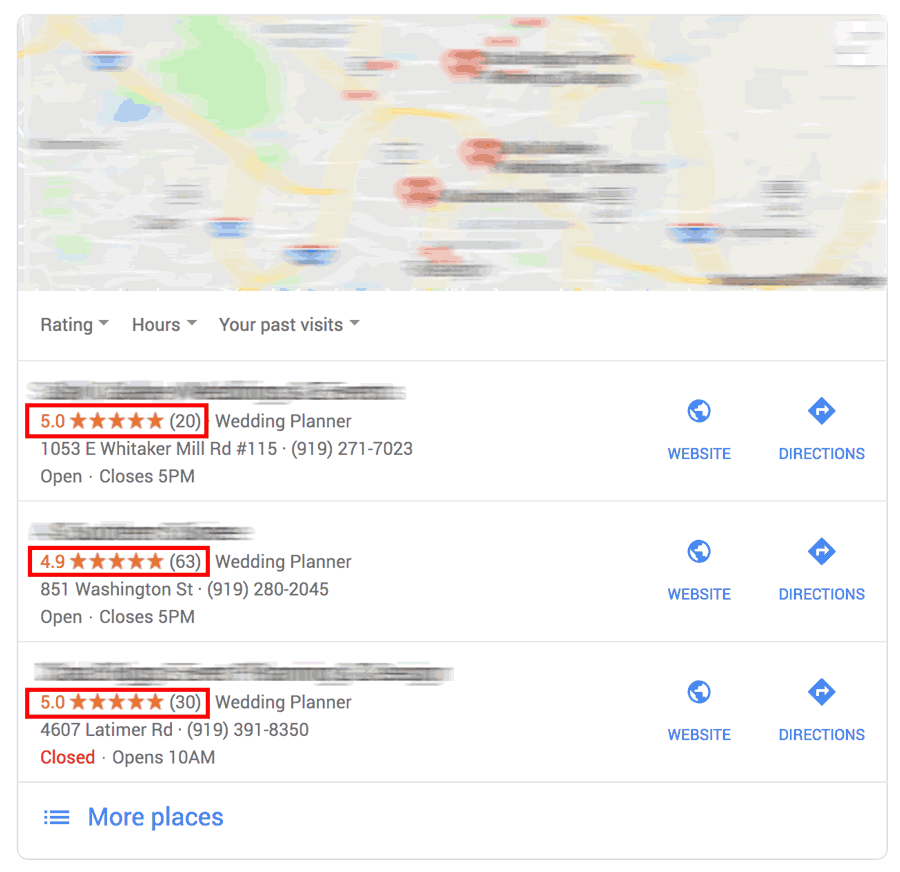 Not only do reviews help you show up more often and higher on Google, having the best rating or the most reviews can help attract clicks to your listing instead of your competitors'.
I know getting more online reviews can feel like a hassle, so check out my 3 easy ways to get more Google reviews.
Make sure your website loads quickly
Google wants to send visitors to websites that are easy to use and quick to load, on computers and on mobile phones. If your website loads slowly, it may not rank as well as it could.
You can use PageSpeed Insights to test how quickly your website loads. Type in your website's home page URL and click "Analyze."
Yes, some of the results will sound like Greek to you (some of it does to me too). But specifically look for anything you understand, like "Properly size images." If you see this warning, you can click it to find images you're using that may need to be resized.
Keep your blog updated
Try to add fresh content to your website at least once a month. This content might be wedding blog post recaps or helpful articles with your wedding planning advice.
Stuck on what to write? Here are 11 Wedding Planner Blog Post Ideas to Improve Your SEO
Websites with more high-quality content tend to rank better than websites that are small and rarely updated. So check out my guide to blog post ideas for wedding planners and plan out your next 3 months of content.
When trying to come up with blog post ideas, ask yourself:
What information do couples want to know before they hire me?
What advice could I share that is local to my area, city, or state? (this makes for unique content and positions you as the local wedding planning expert!)
Still, just writing doesn't guarantee SEO success. Make sure you're using the right keywords: The Right Keywords to Use On Your Event Company Blog
Wedding Planner SEO FAQs
Do I have to pay to show up in wedding planner searches?
Nope!  Search Engine Optimization focuses on the free techniques we can use to get more exposure in search results.  This is different than paying for advertising.
What keywords should wedding planners use for SEO?
Wedding clients often search for phrases including wedding planner, wedding coordinator, day of wedding coordinator, and event planner.  But—make sure to think beyond these keywords too!  You can bring in tons of traffic to your website by blogging and answering questions people often search for online.
Can I just hire someone to do SEO for me?
Absolutely!  But be careful—the wedding industry is unique, and you will be best served by hiring an SEO specialist who understands wedding businesses and how couples search.  I highly recommend the wedding SEO services offered by SaraDoesSEO.com.
Helpful SEO Articles for Wedding & Event Planners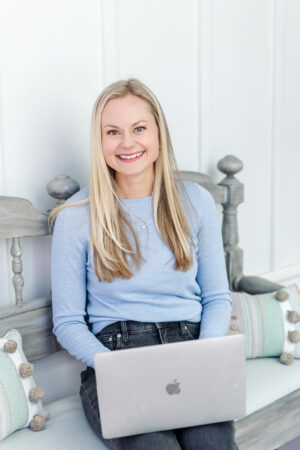 Get Help With Your SEO
Get free SEO help during my next SEO Lunch & Learn, my monthly live SEO class
Let me do it for you! As a wedding planner SEO expert, my team and I offer done-for-you wedding SEO services.