3 Keyword Mistakes to Stop Making
It's time to stop it with these common keyword mistakes in your wedding business.
Keywords are the basic starting blocks of search engine optimization.  You can't be found on Google if you aren't using keywords that people search for.
Because keywords are on everyone's mind, there is a lot of bad advice out there—especially in the busy wedding industry, where everyone is looking for the magic SEO tip.
As I help wedding pros with SEO, I answer a lot of keyword questions and discourage a lot of bad advice.  Let's talk about those common keyword mistakes.
3 Common Keyword Mistakes in the Wedding Industry (and other small businesses!)
Assuming searchers search for super specific things
People don't always search the way we think they do.  Especially when they don't know your industry as well as you do.
You're in the wedding business every single day.  You can spot a square table linen on a round table from 2 miles away.  You know which wedding flowers are a terrible idea at an outdoor wedding in the height of summer.  You know that 10 minutes is absolutely not enough time for 30 formal family portraits.
Your clients are just trying to figure out if they really have to invite Aunt Joyce or if her invitation can get "lost in the mail."
Couples do not know what you know, and they do not search for super specific keywords.
There are few to no searches for "full service wedding planning" or "fine art film wedding photographers" or "boho style wedding florist" as much as you think one of those keywords is really important to be found for.
Go more general, trying variations of keywords like these with your city or area added:
Wedding planner
Wedding photographer
Wedding flowers
Wedding venue
Fixating on one keyword phrase only
Now that I've said the above, you're probably going to think that that one general phrase is the only keyword phrase you can bring in traffic for.
But that's not true!
Your ideal couples are searching for all sorts of things related to their wedding, and all sorts of general variations of the keywords above.
So don't think that "New York wedding planner" or "Charleston wedding venue" or "Maine wedding photographer" is the only keyword that matters for your business
Instead:
Also use slight variations of that keyword ('wedding planning" vs "wedding planner", "wedding photography" vs "wedding photographer", "event venue", etc.)
Think about other questions your couples might be asking during their planning
Dig into your competitors' sites to see what keywords they're using.
There is not just ONE keyword phrase for you.
If you want to find tons more keyword ideas, I'd love to teach you how.
Not analyzing your keyword ideas
So how exactly do I KNOW what people are searching for, and what keywords my SEO clients could be found for on Google?
I brainstorm a ton of keyword ideas, and then I analyze them using an SEO tool.
It's a big mistake to choose keywords out of thin air without analyzing how many searches they get every month.
If you don't analyze, you might end up spending a lot of time obsessing over ranking for a keyword that no one is even searching for. And there might be a slight variation that is much more popular.
For my SEO projects, I use KWFinder, which is a paid tool that I really like.  I recently discovered a free alternative to this called Ubersuggest, which has really come in handy for my SEO students.
Plug your keyword ideas into Ubersuggest and pay attention to the "VOL" (Search Volume) column.  This will tell you the estimated number of searches this keyword has each month.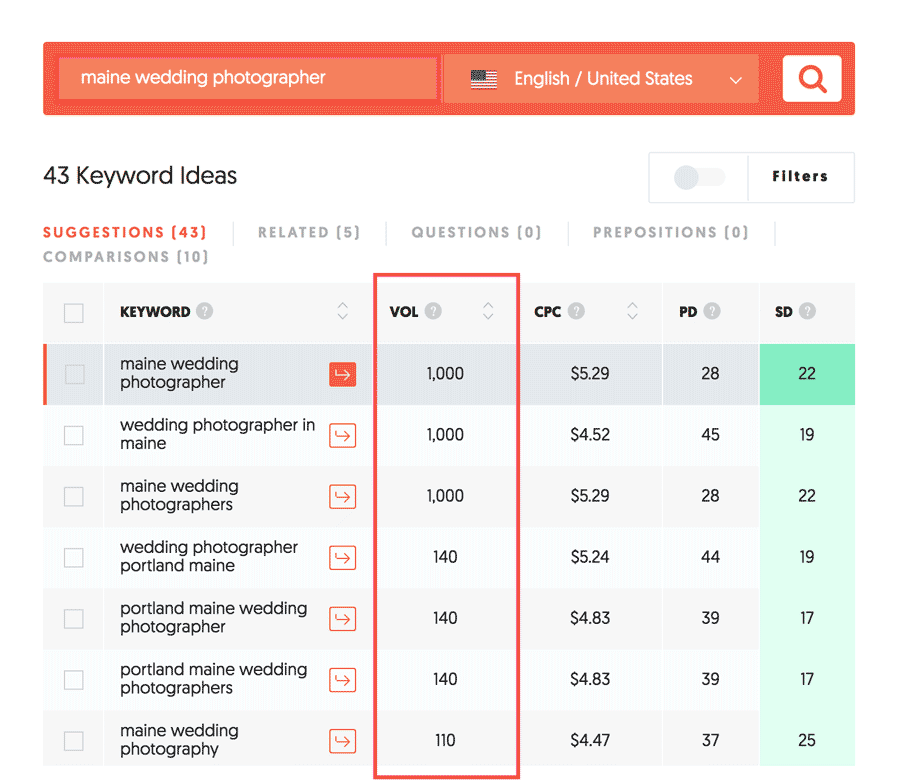 Using this information, you will know if your keyword ideas are actually something people search for, saving you time and frustration.  Hallelujah!
Keywords are the place to start for SEO if you want to start working on your search engine visibility for your website.  Avoid these common keyword mistakes and choose those real, searched-for keywords!
Want to learn more about finding keyword ideas and analyzing them?
I teach my step-by-step process for finding the best keyword ideas in 1 Hour SEO.  It only takes 60 minutes to find the perfect keyword ideas for you and optimize your home page!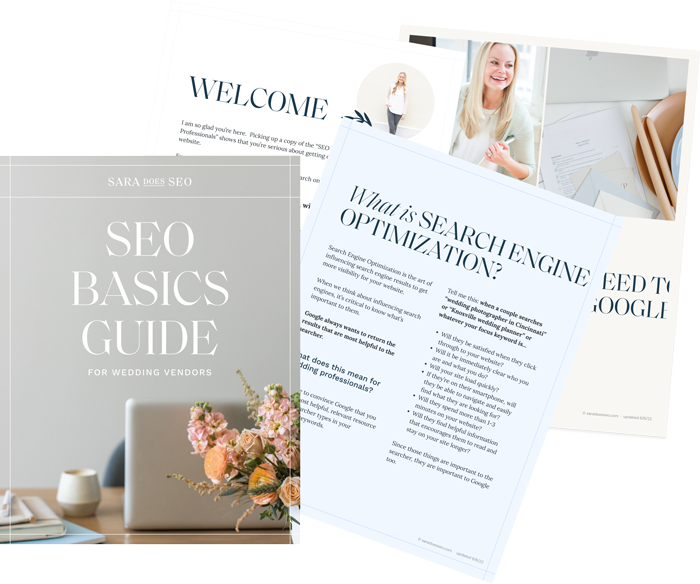 The SEO Basics Guide for Wedding Professionals
Get instant access to my top SEO tips, including only what's working right now.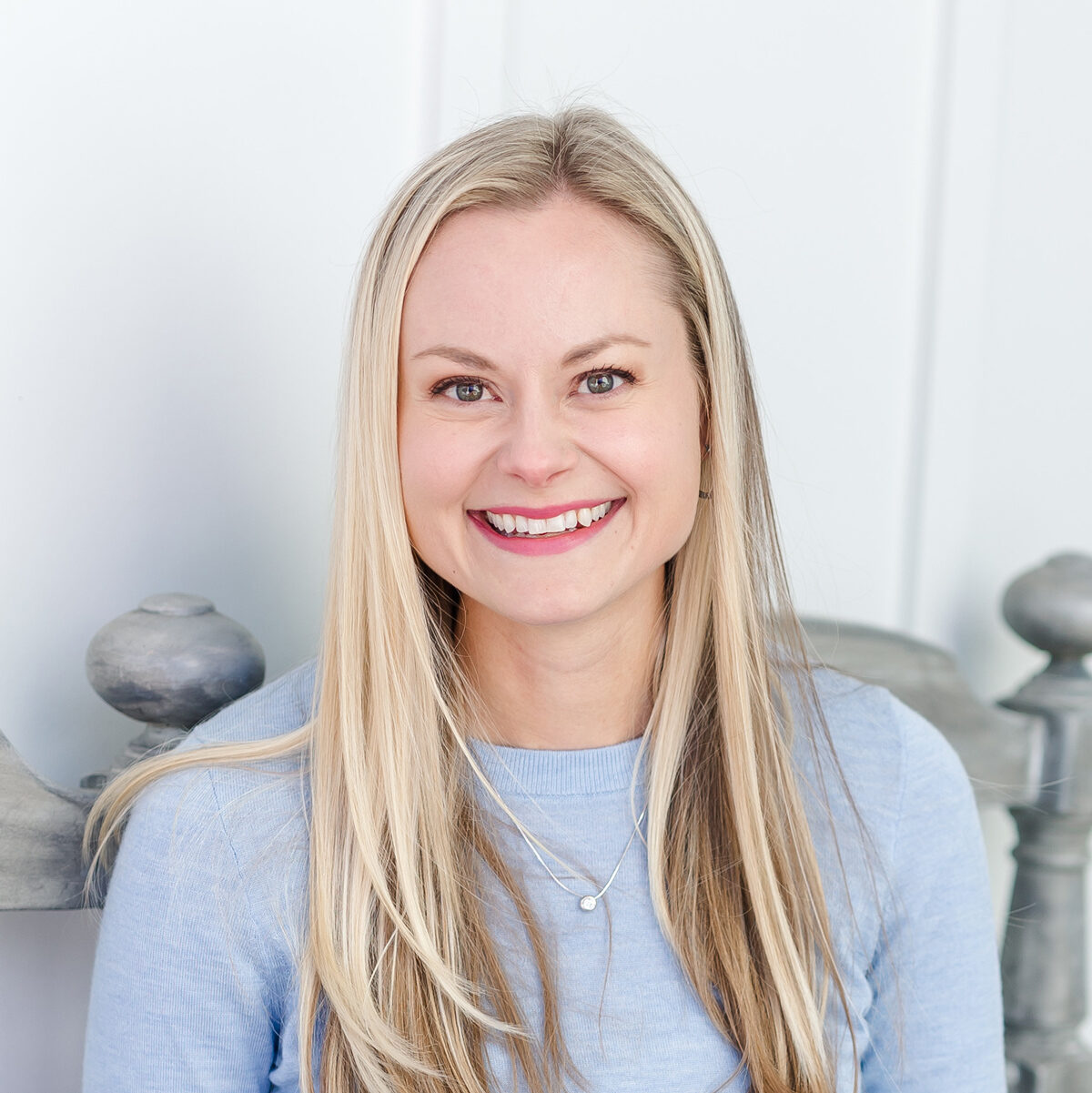 Every creative wedding pro needs a geeky best friend. Let me help you and your work get found online.