Squarespace SEO Issues: How Bad is Squarespace for SEO?
There has long been a debate among website designers and SEO pros: "Squarespace is terrible for SEO!" "Squarespace is fine for SEO!" — What's the truth about Squarespace SEO issues?  Is it good for SEO or bad?
My truth?  Squarespace SEO has come a long way. 
As of 2021, Squarespace is one of my favorite platforms to recommend for small businesses who are building their own websites and care about ranking on Google.
It's easy to use, and it's quick to learn how to use Squarespace's SEO settings.  I even demonstrate most of my wedding SEO course on a Squarespace website.
But— that was not always my opinion.  I originally published this article in 2019, and as a professional SEO consultant for the wedding industry, I had some BIG irritations when working on client sites on Squarespace.
At the time, the SEO limitations of Squarespace made me want to pull my hair out.  I felt like SEO was ignored by the platform, or was prioritized way lower than design and page building.  The problems seemed so simple to fix, and yet Squarespace was very slow to fix them.
As an SEO professional, I found it super frustrating.  I wished everyone would use WordPress instead.
Let's just say—I don't feel that way anymore.
Squarespace's Fixes of SEO Issues
Over the last three years, Squarespace has slowly worked to correct the SEO limitations of their platform.
They've rolled out SEO settings for blog posts and stopped using the site description on every page.  They've introduced templates that aren't badly coded for SEO and made a lot of improvements.
Some issues still exist, but my frustration level is down from, let's say, "URGENT" to "That's annoying."
Let me outline a few of the current issues, in case you're curious.  I'll also include the original text from 2019 detailing a few issues they've since fixed.
*Watch out, this is about to get technical.  If you just want an article on how to do SEO for your Squarespace site, this is a good one.
Squarespace SEO Issues That Still Exist as of 2021
Not offering a clear place for image alt text
Image alt text on Squarespace is a headache.  Figuring out where to put it is not an easy thing for website owners to do, or for me to explain to my clients.
On WordPress, where there is a clear input field for "alternative text" for every image.  On Squarespace, where you put alt text varies widely depending on what block type you're using.
If you'd like to get yourself thoroughly confused, read Squarespace's own instructions on Adding Alt Text to Images.
The article has separate/different instructions for adding alt text in Image Blocks, Gallery Page Images, Gallery Blocks, Product Images, Cover Page Images, and Thumbnail Images—Yes, it's different in every single one of those cases!
One of my biggest issues is when alt text is taken from the image's caption.  I find this really problematic because proper alt text and engaging captions are not the same thing.
Take this image as an example: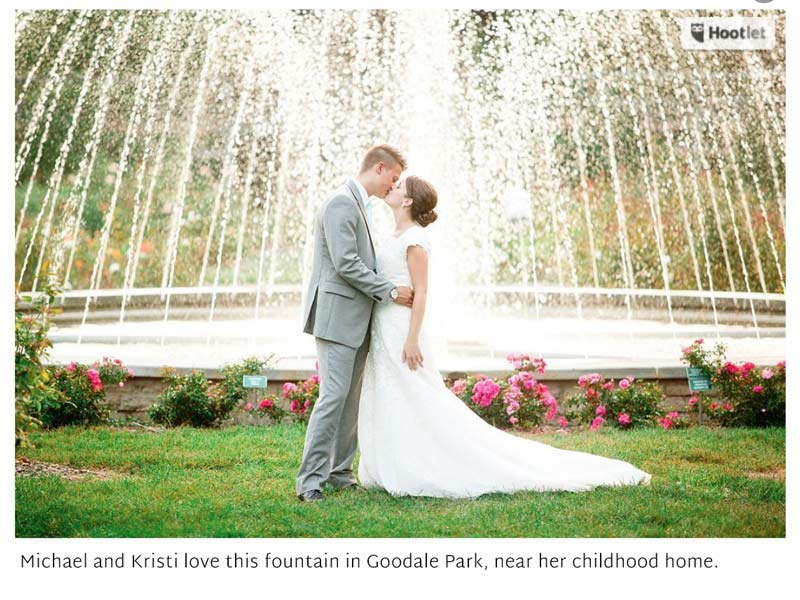 This caption is fun and has a bit of personality, but I'd likely give the photo more generic alt text like "Bride and groom portrait with fountain at Goodale Park."  I would never want that to show up as a caption, and Squarespace shouldn't make me compromise in either area.
The whole Squarespace 7.0 vs 7.1 issue
Squarespace has fixed a few more hiccups in their coding and website templates in the brand new Squarespace version 7.1.  I love 7.1.  It's an awesome design experience.
The problem is… not all Squarespace sites have access to these features and templates, because most Squarespace customers use Squarespace 7.0.
Here's what really irks me:  There is no easy way to move from Squarespace 7.0 to 7.1.
If you're a long-time Squarespace customer and want to use their newest, best solution—you have to re-build your site from scratch.
There isn't even a way to migrate blog posts from the old version to a new Squarespace site.  So if you have a ton of blog content and don't want to re-create each post with copy & paste, you are stuck on old technology.
It is absolutely insane, and such a disservice to loyal customers.
2 SEO Issues Squarespace Has Fixed Since 2019
*This text is from my original article written April 2019.  These issues are now resolved.
Using the Site Description as the meta description on multiple pages
Squarespace encourages you to set a "Site Meta Description" in Marketing > SEO > Site Meta Description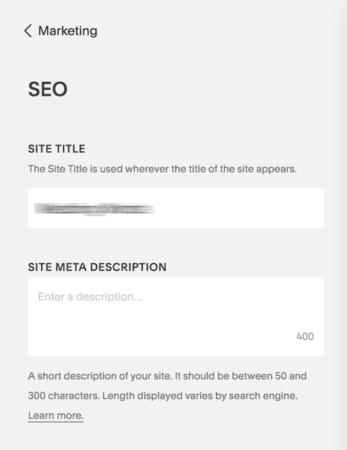 Squarespace shows you that they use this meta description for the website's home page.  If that's all it did, that would be great.
The problem is that Squarespace actually uses the "Site Meta Description" for any page or post where you don't specify a different meta description.  That means that the Site Meta Description is almost always applied to multiple pages of your site.
Google is clear that it is a best practice to "Use unique descriptions for each page" and to avoid "Using a single description meta tag across all of your site's pages or a large group of pages."
Having a different description meta tag for each page helps both users and Google.
How Squarespace missed this memo straight from Google is beyond me.  I would like to see them fix the "Site Meta Description" to apply to the home page only.
Not allowing custom meta titles and descriptions on blog posts
Recently, Squarespace made a much needed change to add an "SEO" tab in Page settings.
Unfortunately, the same feature is not available for blog posts.  Instead, excerpts are used as the meta description for blog posts, and you have no option to set a custom meta title for posts.
Good meta titles and descriptions help you optimize for keywords and attract clicks in the Google search results.  When I can't control these for a client, I can't do every last thing I can to attract clicks for them in Search. They may lose out to good descriptions from a WordPress site, where controlling this is easy with the Yoast plugin.
Using excerpts is also not a good solution.  We don't always have the same goals for an excerpt that shows on the site's Blog page as we have for a meta description.
I often want an excerpt to be longer, and I have to compromise in both areas when I'm trying to craft it as a meta description.
So… Do I Need to Get Off Squarespace if I Care about SEO?
So here's the real question: given the technical issues that do still exist, do you need to change website platforms for SEO?
The Answer: Absolutely not.  Squarespace sites absolutely can and do rank for small business keywords.
The days are gone where I could rank a well-coded WordPress site in far less time than a Squarespace site.  While WordPress has gotten more complicated, confusing, and slow, Squarespace has consistently improved.
That said, it's still not perfect.
Let's keep our fingers crossed that Squarespace continues to work with SEO experts to improve the SEO settings on their platform.  So far, so good.
*This post was originally published April 17, 2019.  It was completely updated and republished May 6, 2021.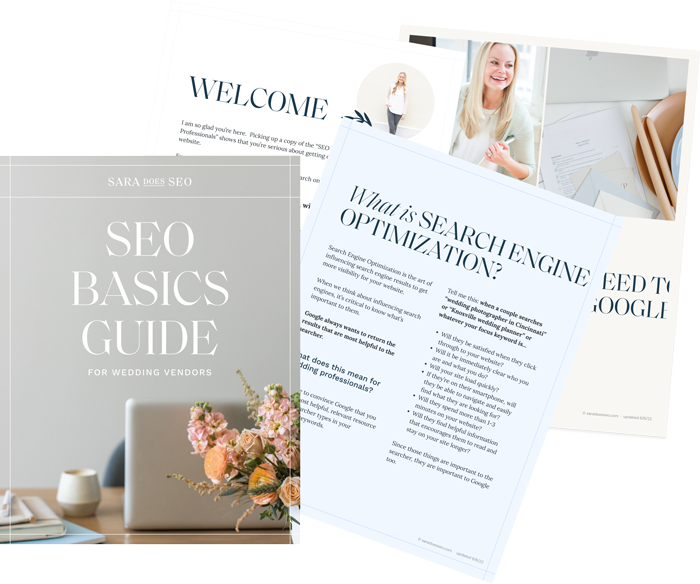 The SEO Basics Guide for Wedding Professionals
Get instant access to my top SEO tips, including only what's working right now.
Every creative wedding pro needs a geeky best friend. Let me help you and your work get found online.