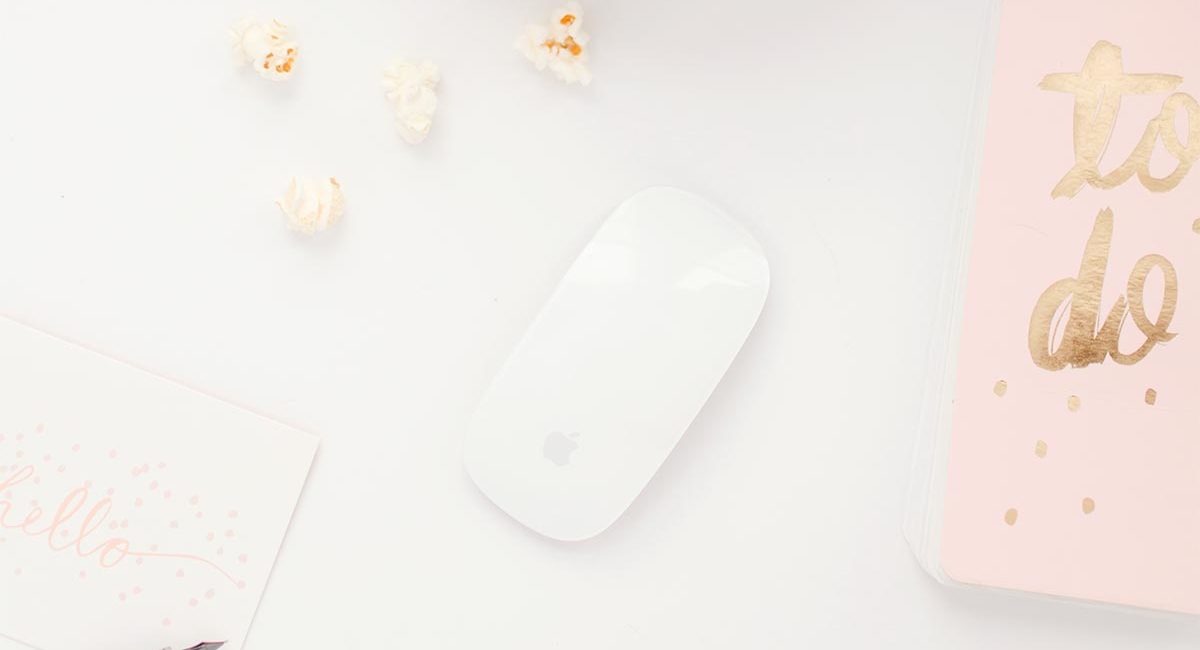 5 Things to Do If No One is Reading Your Blog
You're hearing it everywhere: as a business owner who wants to improve their SEO, you have to blog.  But… what if you're blogging, and you feel like no one is reading it?
Blogging can feel like a waste of time and effort if you're spending hours coming up with ideas, crafting thoughtful paragraphs, finding the right images, and then hearing crickets after pressing publish.
So what do you do if you feel like no one is reading your blog posts?  Here are five ideas for how to move forward and get more views.
1. Make Sure It's Actually True
Is no one reading your posts… or do you just feel that way because you aren't getting a flood of likes and comments?
The only way to know for sure is to check your website analytics (just another reason you need to have Google Analytics installed).
Here's how you check how many views each page (and post) on your website is getting:
Open your Google Analytics.
Using the menu on the left, navigate to Behavior > Site Content > All Pages

If you want a more full and accurate picture of page views, change the date range in the upper right hand corner to "Last 30 Days"
Now, review your stats:
Do you see some of your posts listed?  Then (rejoice!) people are visiting them!
How many unique pageviews did each post have?  This will help you see which posts are most popular.
What is each post's Average Time on Page?  This is how long someone spent reading the post.  It should indicate to you which posts are most interesting and engaging.
Note that you probably have several pages of results here.  To see more, under the table of results, change "Show rows" to 25 or 50, or click the arrow > to go to the next page.
Surprising results?  Did you find out you're getting more traffic than you thought?  (Leave a comment, I'd love to know).
Or, if you want to get even more views for your posts, here are more ways to move forward:
2. Add Blog Post Links to Your Workflows
Have you written a blog post that would make a great resource for a prospect or client?  Make sure to include a link in your email follow up!
A wedding photographer client of mine recently wrote a killer blog post on why couples should always do an engagement session.  She now sends it to every couple after they book. Just last week, she reported to me that her couples now show up to engagement sessions more excited, better dressed, and more prepared.
Here are a few ideas for adding your blog posts to your workflows:
Include links to your 3 favorite blog posts in your autoresponse to an inquiry.  This will help them get to know you and trust you better before you even talk.
Schedule emails to send every month to your clients after they've booked you.  Link to posts you've written that will help them prepare for their wedding day.
Rather than write a long answer to a client's question via email, write a blog post as an answer!  Then send them the link. It will help serve your other clients in the future too.
3. Share Your Posts More than Once
You write your blog post, press publish, post the link on Facebook, promote it via your Instagram feed and story, and then hope and pray that the traffic pours in forever. ← Does this sound like you??
Hard truth time: You can't promote a blog post once and expect that it will get traffic for all of time.
Instead, resurrect your favorite blog posts again and again via social media.  The odds are that most people missed it or didn't have time to read it the first time you posted it.
Here are a few natural ways to re-share your best content:
Wedding photographers: if you're prepping for an engagement shoot, share a link to a general resource you wrote about engagement sessions. ("I'm packing up and driving to Westchester this morning.  It's my 12th engagement session of the year. In this post, I share more about why I love doing engagements with my clients.")
Wedding photographers: if you're headed to a wedding, share a link to the couple's engagement session the day before ("I can't wait for So & So's wedding tomorrow!  Here's a link to their gorgeous engagement shoot in Asheville last spring.")
Headed to work at a venue you've worked at previously?  Share a link to your blog post about that past featured wedding. ("Can't wait to return to Glenwood Manor this weekend!  Here's a link to the wedding we coordinated there last April.")
Take advantage of anniversaries ("Happy 1-year anniversary to Lorrie and Justin!  Their wedding at Falls Creek last year was so full of rustic, handmade details…")
If you use Twitter, it's totally acceptable to schedule a new tweet with a link to the same article every month.  Just pull a new tidbit out of the post to include with the link.
4. Link to Your Posts Within Your Own Website
Too often, I see that a website's blog lives on an island only accessible via the "Blog" link in the menu.  If visitors never click there, they never see those blog posts.
What a missed opportunity!
Visitors should be led throughout your website to read your blog.  Don't just expect them to click the "Blog" link in your navigation menu.
Here are a few ways to get your blog posts more visibility on your own website:
Include a "Recent" or "Most Popular" blog posts section on your home page.

Include a section on your About or Weddings page for "My Favorite Resources."  Link to 3-5 of your most helpful/popular blog posts.
Use internal links within your blog posts to link to other posts.

For example, If you've worked at a venue before, try adding a link at the end of the post like this: "We love planning weddings at Glenwood Manor.  For more of our work there, don't miss John and Karen's fall wedding at Glenwood Manor last year."

Include a "Related Posts" plugin on your WordPress blog that automatically adds similar posts after each blog post.
5. Better Optimize Your Posts to be Found in Search
Of course, the posts on my clients' websites that get the most regular traffic are those that are found in Google search results.
To write posts that rank well in searches, here are a few things to do:
Write your blog post to answer a specific question that clients actually ask you
If your clients have a question, others are probably searching online for the same answer.  Phrase the title of the article as the question.
For example, one of my most popular articles on this blog is "What Should I Name My Images for SEO?"  It ranks for searches like "seo images names", "image filename seo" and "seo image naming."  It has a very high click-through rate, which I think is because people see that the title is their exact question.
Post recap posts of local events like wedding shows
These posts are great for bringing in local traffic.  If you focus on events that couples attend, you're likely to get related traffic to your site from couples looking for more information on that event.
Write longer posts
Posts with a higher word count consistently rank higher in search than shorter posts.  So when you're writing a helpful article or how-to, shoot for 500-1000 words (no, 300 words probably won't cut it).  Featured weddings can likely be less if they are well optimized (aim for 500 words).
So, is blogging worth it even if you feel like no one is reading your work?  Absolutely. Let your voice shine, answer questions, and don't be afraid to re-share your past posts.
If you found a great way to get more attention for your blog, I'd love to hear!  Leave a comment below.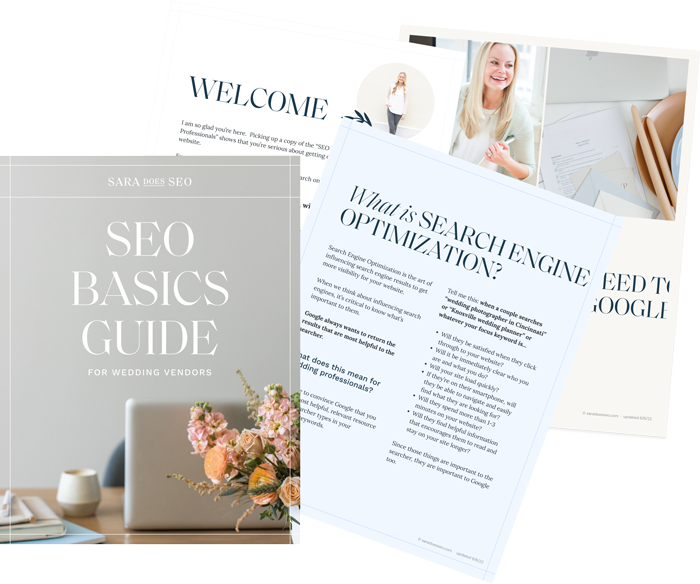 The SEO Basics Guide for Wedding Professionals
Get instant access to my top SEO tips, including only what's working right now.
Every creative wedding pro needs a geeky best friend. Let me help you and your work get found online.