Results: State of the Wedding Industry Survey 2022-2023
In mid-2021, I started seeing the social media frenzy.  Graphics and news articles and memes shared about the huge, impending "Wedding Boom" coming for 2022.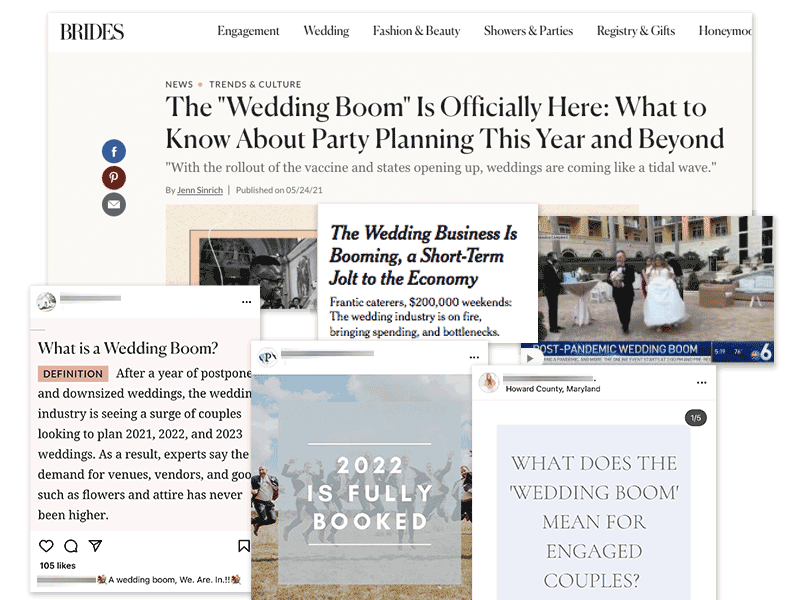 There seemed to be an immense pressure to encourage couples to "Secure your vendors now!" "Don't wait to book!", "Calendars are filling up!"
But, private conversations told a different story. As an SEO consultant for the wedding industry, I talk with wedding businesses every single day. And not everyone I spoke to was feeling a "boom" in their own inquiries and bookings.
I started wondering—Was the wedding boom real? Felt by all business categories, throughout North America and the world?
Or was it hype? A bandwagon everyone thought they should talk about? Maybe completely real for some vendor categories and not others?
I didn't have the answer, so I decided to find it.
My team at Sara Does SEO and I launched the State of the Wedding Industry Survey in September 2021. Here, I'll share the results and some key takeaways.
The Survey: About the Responses
There were a total of 435 responses from wedding industry professionals
94% of respondents were US-based, spread fairly evenly throughout the country. There were 20 responses from Canada and 27 chose "Other" for their location.
Respondents answered 14 questions about their business and the wedding industry over the next two years.
The survey included two open response questions. You'll see a sampling of their words and trends at the end of this summary.
TLDR; Key Findings
The wedding boom is very real for many vendors. 54% of respondents rated 2022 as somewhat busier or significantly busier than "average" wedding seasons pre-COVID.
Still, 26% of respondents aren't feeling the 2022 boom, rating 2022 as somewhat or significantly less busy than average.
Very few vendors (only 3%) consider themselves fully booked for 2022. There is still capacity available.
It seems too early to tell what 2023 will look like. Very few vendors reported 2023 bookings, with 68% reporting that they were less than 10% booked. Many mentioned that they were not yet accepting 2023 bookings. Given this data, we have chosen to focus our summary on the interesting comments about 2022.
The Survey: Details and Analysis
In this section, we will dive into analysis on a few key questions we hoped to answer through the survey.
Is the 2022 Wedding Boom felt evenly by all vendor categories?
The graph below shows wedding vendors' responses to the question:
"Compared to "average" wedding seasons pre-COVID, how is 2022 looking for your business?"
The answers are separated by vendor type, so we can more easily compare which vendors report being busier than average (in green and blue), average (yellow), or less busy than average (orange and red).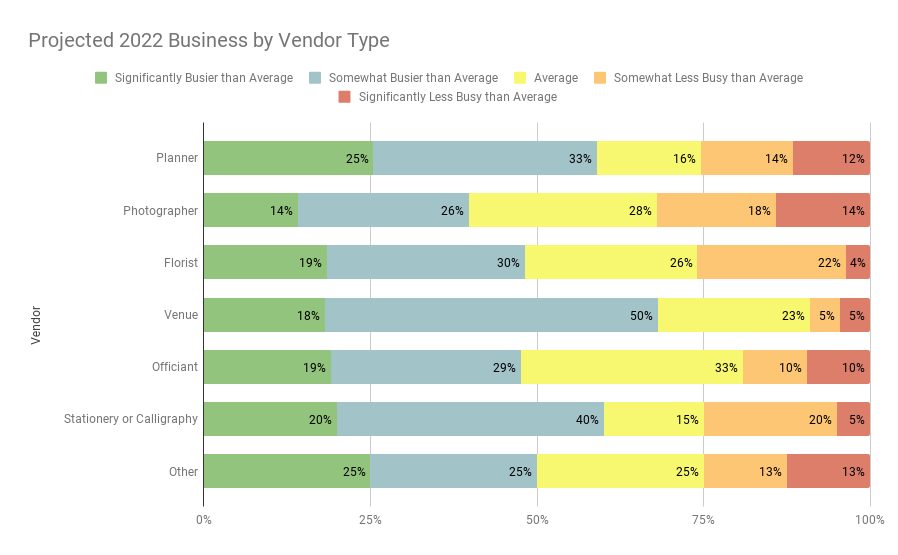 Key takeaways from the data:
At this point, it appears that these categories are the hottest for the boom:

Wedding Venues (68% report being busier than average)
Wedding Planners (58% report being busier than average)
Stationers/Calligraphers (60% report being busier than average)

Interestingly, only 40% of Photographers surveyed report being busier than average for 2022. This is significantly lower than other categories.
*Note: We received less than 10 responses from each of these categories, so we chose to remove them from graphs in case they were not representative: DJ/Band, Rentals, Videographer
A few possible reasons that could explain these findings, which are purely speculation on our part:
Wedding Venues and Planners may be booked first in couples' planning process for 2022. Bookings may trickle down to other vendor categories soon.
More couples may be choosing to hire a Planner than previous years, recognizing the benefit of having an expert guide them through possible pandemic-related issues.
Which vendor categories still have the most available capacity for 2022?
The survey asked the question:
"On a scale of 1 to 10 (with 1 being no bookings and 10 being fully booked for the year), how booked is your business right now for 2022?"
The graph below shows the average "booked" rating by vendor category.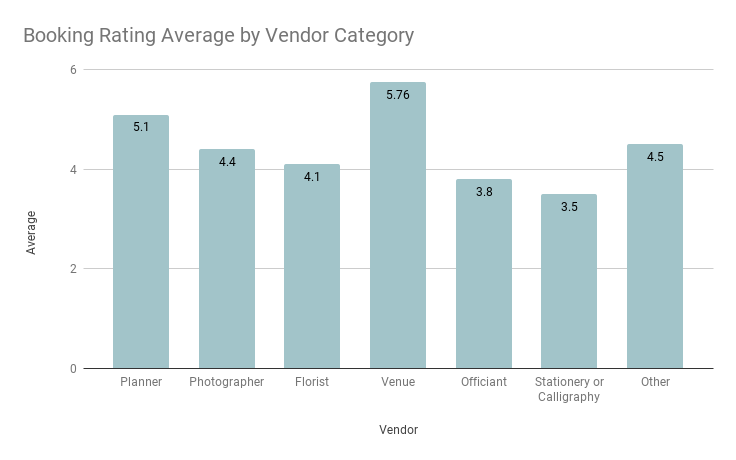 Key takeaways from the data:
While Venues and Planners perceive their businesses to be busier than average, most still have capacity available. They only rate their businesses about half to 60% booked for the year.
Florists, Officiants, and Stationers/Calligraphers have the most 2022 capacity available of all vendor categories surveyed.
(Not shown in this graph) – Only 8% of respondents rated their business a "9" or "10." This indicates that most wedding businesses are not yet fully booked for 2022. This suggests that couples could still book their favorite vendors, if they are flexible on dates.
Are certain geographical regions busier than others with weddings for 2022?
The graph below shows wedding vendors' responses to the same question:
"Compared to "average" wedding seasons pre-COVID, how is 2022 looking for your business?"
The answers in this graph are separated by region, so we can more easily compare which regions report being busier than average (in green and blue), average (yellow), or less busy than average (orange and red).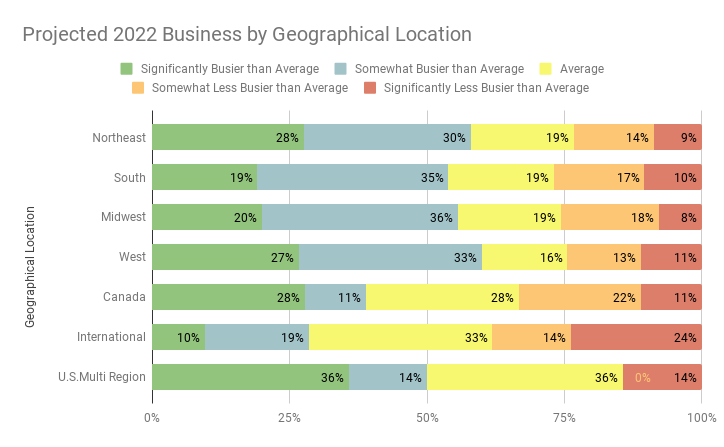 Key takeaways from the data:
There doesn't seem to be a huge difference between the US regions. You could call the US West the "busiest," with 60% of vendors region reporting being busier than average.
Only 54% of vendors in the US South report being busier than average for 2022, the lowest of the US regions.
Canadian and International vendors report being less busy than those in the US. However (not shown in this graph), Canadian vendors rated themselves to be pretty booked up already (rating average 5.4 out of 10).
Do years in business influence how busy a vendor is for 2022?
The graph below shows wedding vendors' responses to the same question:
"Compared to "average" wedding seasons pre-COVID, how is 2022 looking for your business?"
The answers in this graph are separated by years in business.
Key takeaways from the data:
Interestingly, the level of "busy" for 2022 doesn't simply increase with experience/years in business.
Vendors in years 3-10 of their business report being the busiest for 2022, with 57% reporting they are somewhat or significantly busier than average seasons pre-COVID.
Of vendors in business 10+ years, only 54% report being busier than average for 2022, with a notable 31% reporting they are less busy than average for 2022.
The wedding industry for the next two years: In their own words
Some of the most interesting findings in this survey were in respondents' written answers to the two open-text questions.
We have done our best to identify trends in their anonymous responses. Excerpts are included below.
Tell us more about your 2022 and 2023 bookings, if anything stands out to you
✏️ We saw many comments about off-days:
"More couples booking Fridays & Sundays"
"Seeing more Sunday weddings"
"Lots of weekdays!"
"Weddings on Mondays, Tuesdays, ANYDAY for us and I am LOVING it. "
"More Friday weddings"
"Definitely booking off days like Tuesday even. They are more focused on the date then what day it falls on."
"More booking weekday weddings purely based on venue availability"
? Numerous mentions of wedding weekend experiences
"I've noticed clients willing to pay more for weekend experiences (booking my services for the rehearsal dinner, wedding, and day-after brunch)."
This has only happened two or three times but it's notable: I've had more couples interested in multi-day weekend events (so booking wedding-related activities for Thursday through Sunday).
Seeking more weekend wedding experience for guests
Increased interest in multi-event wedding "weekends"
? And a lot of comments on not feeling the boom
"No bookings whatsoever! This is very unusual. I'm a bit concerned."
"I have zero bookings for 2022 and 2023 for our main brand which is our luxury brand."
"No bookings at all – very rare for us at this point in the game to not have at least one, maybe 2."
"I haven't noticed a difference at all in bookings, good or bad."
"I have one booking in 2022 and no bookings in 2023"
"Very very slow. I think because we are more of a last minute vendor if there is a budget for it"
"I raised my prices so that could also be affecting things…but I've had less inquiries."
"I have exactly 1 booked wedding for 2022 (a covid reschedule), and 0 for 2023. I have had lots of inquiries for 2022, but many of them are looking for inexpensive services, and that's not me."
"I dont have any bookings"
What do you think it will be like to work in weddings for the next two years? What challenges or opportunities do you see coming?
⬆️ A lot of comments on raising prices to be more selective about who they're working with:
"It will be a year of setting boundaries and taking only weddings that i desire. The demand is high so I feel i can price myself at a price i feel comfortable with and do less."
"It's definitely going to be busy, I think I'm going to be able to raise my prices and get more business. It's been hard though, I've turned down at least 30 weddings for October, I wish I could do them all!"
"I see opportunities for increasing my prices as a response to the influx of inquiries."
"I have gotten burned out in the last month so I am approaching next year with lots of boundaries – fewer weddings at a higher cost so that i can love the industry again instead of being burnt out"
"I increased my prices so I wasn't just trying to fill my calendar but instead filling it with the RIGHT clients, inquiries are lower but I would rather have that this far out. 2021 was crazy and I'm ok with a break"
? Burnout comments are big:
"I *know* we need to hire more people and strengthen our processes but I feel like we already have to be shifting to 2022 people so will we even get a 'break'?"
"I think it will continue to be exhausting. This summer we saw couples with very high expectations because they had waited so long to have their weddings and wanted them to be perfect as a result. Lots of entitlement, and I think that will amplify in 2022 if we're not out of the pandemic yet"
I think that I will take fewer weddings and spend more time freelancing for other pros to still make money but alleviate some stress & burn out."
"I think it is going to be tiring. Big expectations with still a lot of unknowns. More changed plans which means more work than normal."
"We're absolutely exhausted from the volatility and inconsistency w the event industry."
"I see a lot of vendors feeling less than when they aren't as busy as others. I worry about the amount of burnout coming our way from overcommitting but needing to rebuild from 2020."
"We are not actively pursuing bookings as we are only accepting half of what we usually book due to burnout from 2021."
? Worries about staffing and supply issues
"Lack of skilled contractors to work alongside me in my business compared to the number of weddings/inquiries will make it more difficult to provide larger parties services (and wedding parties are getting BIGGER)"
"Extremely busy! The issue we have, as many do, is finding great employees."
"From a venue perspective – the challenges seem to be staffing and availability of inventory in all areas (specific food items, flowers, etc).
"Staffing will be hard, especially for "week day" weddings"
​​"I'm already seeing supply issues, in both physical goods and services.
?? Disagreement on whether weddings are getting smaller….
"Micro wedding packages will be in higher demand. More backyard/home weddings"
"I think weddings might be smaller affairs with bigger budgets for details."
"Couples investing more in intimate style weddings. Guests experience will be a major focal point."
"I see a trend toward smaller weddings being planned, more in the 90-140 range. I think people have been to smaller weddings due to Covid & found they liked that experience.
"Clients willing to invest in big scope weddings for small guest counts."
"Smaller guest count, more dollars spent per guest"
??? Or bigger…
More bigger weddings with big parties, more people wanting to get married and have photographers hired"
"Hopefully ever changing mandates will stop. Our couples want to go big, so looking forward to super elevated weddings."
I am booking bigger weddings – wedding party and guest count.
"Clients are booking larger weddings and ready to secure dates and start planning immediately."
? Some say budgets are smaller or clients want to pay less…
"I also see couples trying to stretch their dollars during this current rise in inflation and this causes them to ask for more and pay less."
"Challenge will be people not spending money like before Covid."
"Couples are lowering their budgets due to loss of income during the last few years, therefore finding less clients that fit my needs to fulfill my business revenue needs."
"Clients wanting to pay less for services"
"Decline in high budget weddings"
"I've gotten ghosted a lot for luxury pricing"
"Couples are wanting all of the bells and whistles and wanting to pay next to nothing for it."
"Clients aren't willing to pay for planners and have significantly less budgets. Most are looking for Day-of coordination only, but also want it really cheap!"
"Couples are expecting vendors to offer rock bottom pricing to earn their business."
"Most looking for budget friendly options and mostly wedding day management"
"Clients are no longer interested in value they get but the price tag and are not spending much"
? Others say couples are willing to pay more or book bigger packages…
"opportunities for higher end clients, willing to spend more as they see the value in our services.
I'm happy to see lots of clients upgrading services right now and I hope the trend of booking plenty of full planning clients continues."
"Clients are spending more, and booking earlier."
"My couples are willing to spend more money to get the look and feel they envision."
""Clients are willing to pay a premium amount to secure the best vendors!"
"I see more of my couples willing to pay more for quality vendors and to ensure it is the day they have been wanting."
"I am seeing clients wanting to book higher planning packages because they think they need more help!"
"We haven't had nearly as much pricing pushback. Many full service bookings."
"Full planning is the most popular and clients are willing to pay more"
"Clients are spending more money on everything. Seeing much larger budgets"
"Clients are spending more for 2022 without hesitation. Signing contracts quicker – many same day."
"We are seeing higher budgets and clients willing to pay us more."
"they are paying more, and they have had more interest in a la carte items (like albums or prints) than before."
"Clients are willing to pay for no hassle planning and all-inclusive packages."
? Some say couples seem hesitant to book
"People are waiting until the last minute to book, hoping for deals because vendors are desperate or they themselves are still concerned about COVID."
"I see people waiting to book vendors until closer to their day."
" I think there's going to be a wave of last minute bookings because people are kind of holding off until they feel more confident that their wedding is actually going to happen."
"Clients are far more gun shy when it comes to signing the contract and making the initial payment"
"waiting longer to get contacts back with retainer"
"No one seems willing to commit – all bookings are "last minute""
"Clients less willing to commit and shopping around more"
✍️ Others say clients are very motivated to book
Clients seem very engaged (no pun intended) and motivated to book the people they want as quickly as they can."
"Clients are willing to pay more and book early to secure their preferred vendors"
Signing contracts quicker – many same day.
"seems to be a frenetic desire to get someone hired without really knowing what they want (for 2023)"
Clients are very eager to get everything booked and planned way in advance."
? A lot of talk about how stressed clients are too:
"I think we will have to do a lot of managing boundaries. Clients want their answers quickly (bec they are more anxious) and are also nervous because they know we are busy with backlog.
We are seeing couples more anxious, worried and emotional from rescheduling and still limitations with travelling guests."
"More stressed than average couples. A lot of these folks have waited literal YEARS to finally get married and likely have some trauma responses (understandably) to things maybe not going exactly as they hope.
"Couples are more stressed and anxious to plan, but far less responsive."
? And an astounding number of comments about clients being harder to work with or unrealistic:
I also see challenges with more couples being more needy. I think people are so eager to get planning and going right away that they expect it to happen at their pace vs what our processes are."
"Clients want more. More unique and more of a client experience. With a staff shortage that will be difficult"
With all the talk of how busy the year is, clients are becoming more demanding and less understanding."
"Recently I've noticed micro managing + more demand from our clients + potentials – I think it's the aftermath of covid + FOMO"
"Clients are pent up, frustrated with the world, and seem to be putting all of their energy and expectations into their weddings."
"​​All the empathy we were getting from couples seems to have run out and there feels like little regard for ongoing safety/COVID concerns."
"Clients way more demanding and expectations are higher."
Whereas in the past, folks I've worked with have largely been open to the very real and natural unpredictability of any wedding day, I feel like folks are now on high alert and have stronger reactions to things going "wrong"
"I've also noticed pandemic couples being more difficult (COVID issues notwithstanding) than my past couples and not being "on it" when it comes to communication and resources I send over."
"Clients are more demanding, less understanding, less patient. More anxious, and budgets aren't necessarily higher."
"Demands are higher, patience is thinner, everyone wants prime Saturdays and don't understand why dates aren't available."
?‍♀️ While some aren't seeing much change for 2022 and 2023:
"Things really haven't changed for me with weddings during COVID! We still have big weddings (up to 400 guests), and lots of Saturday and Sunday weddings. Only a few weddings are during the week!"
""I'm still booking 99% of weekend weddings (Fri/Sat), there is a little less push back on pricing, but other than volume, it feels relatively "normal""
"Not really a huge change. I think this "boom" isn't a boom."
? Some positive outlooks
"Hopefully this will be good for those newer to the industry and I will start to get a lot more bookings!"
"Small and intimate weddings have been more popular during the pandemic and I have been a huge fan of being able to offer packages catered to them and have a better work/life balance."
"there are so many opportunities for growth, partnering with new vendors, developing passive sources of income and collaborating with like minded folks in the industry"
"I see so many opportunities popping up in my area. I am using this time to really hone in on my current offerings, as well as implementing new services. Times are changing and I am gearing up to take advantage!"
Final takeaways:
While surveys and data are a great way to identify trends, I think it's so important to point out that every wedding business is individual, experiencing different things for their current and upcoming seasons.
For every question we asked, every answer was selected. While there are businesses thriving, there are many others struggling. While there are businesses that are booking up, there are many others who are hearing crickets.
Wedding pros, no matter what you're feeling, you're not alone in it. "Everyone" else doesn't have a full calendar for 2022 of ideal clients. We saw reports that weddings are getting bigger, smaller, more expensive, less expensive, or not changing at all. There is definitely not just one direction that weddings are going in for 2022 and 2023.
Want to add additional comments? The comment section is open to you below. ?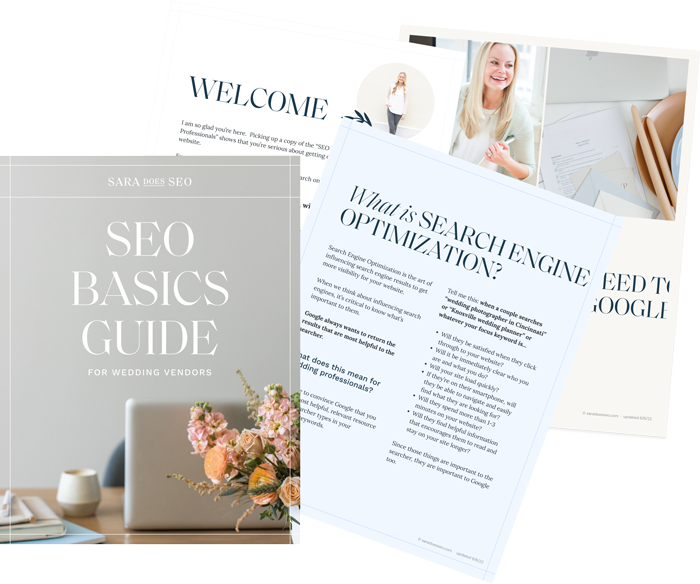 The SEO Basics Guide for Wedding Professionals
Get instant access to my top SEO tips, including only what's working right now.
Every creative wedding pro needs a geeky best friend. Let me help you and your work get found online.