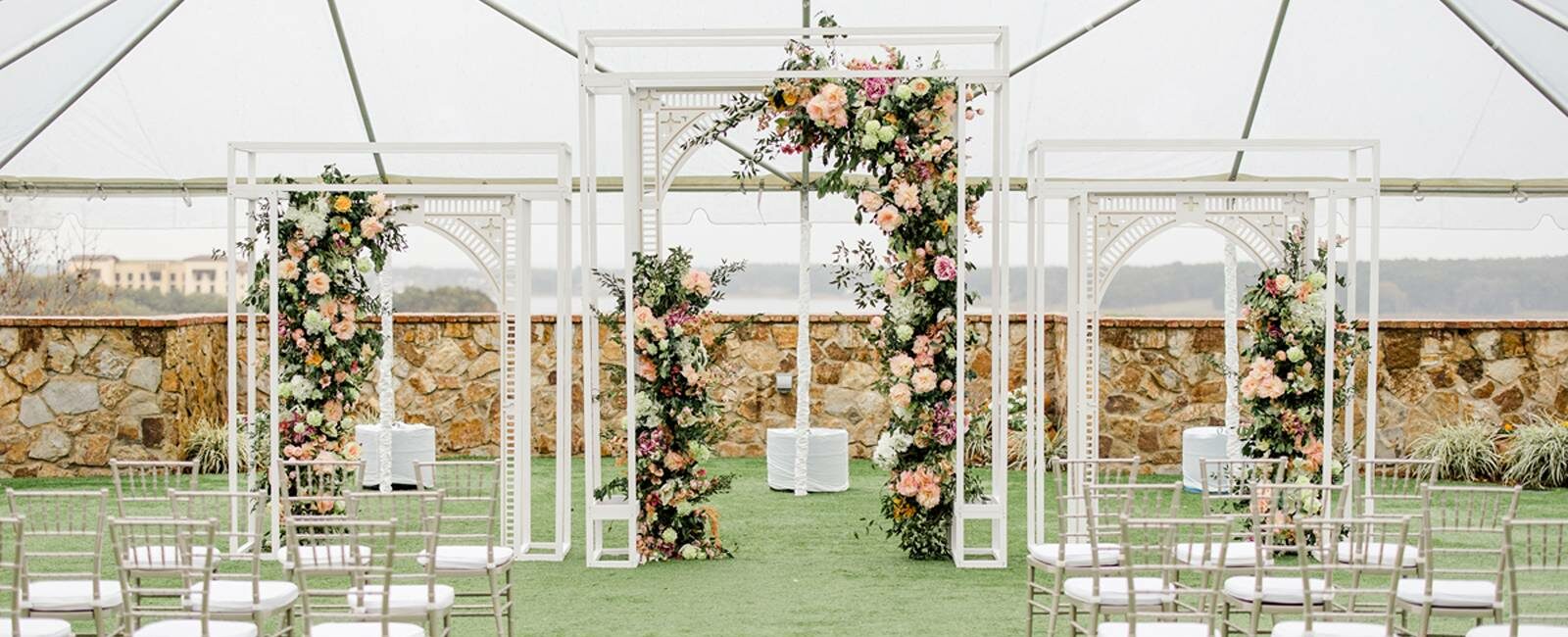 How to Spot Scam Inquiries in the Wedding Industry
You get an inquiry, and it seems almost too good to be true. The prospective client wants to book your highest package immediately, for an event that's coming up soon. Do you get excited… or is it a scam?
This article will help you understand how to spot scam inquiries in the wedding industry. Because, as wedding professionals have shared with me, there are tons of scams landing in the inboxes of all wedding vendors, from planners to photographers to makeup artists.
The scam I saw
As a wedding SEO and marketing specialist, I often read through my clients' inquiries— It's my job to bring in more inquiries for my clients, and I want to make sure they're good.
A couple weeks ago, I noticed that two of my wedding planner clients had received a very similar inquiry, from a person planning an anniversary party.
Hi
My name is Richard Wallace, I am having a surprise 20th wedding anniversary for my wife on January 26th, 2023. Though the said date is flexible, and I wish to seek your professional touch in planning this party.
I'll be glad to hear from you if you can handle this for me, any other arrangements will definitely be discussed as we proceed.
Thanks,
Richard Wallace
Adriatic yacht
Electrical Engineer
I thought it was weird that the person put their profession and title at the bottom of the inquiry ("Adriatic Yacht, Electrical Engineer"). Then it was a big alarm bell when both of my clients got a similar inquiry, since they are not in the same market. It just seemed… fishy.
So I posted to my Instagram @SaraDoesSEO, asking if any other wedding pros had gotten the same inquiry, and WOW was the answer yes!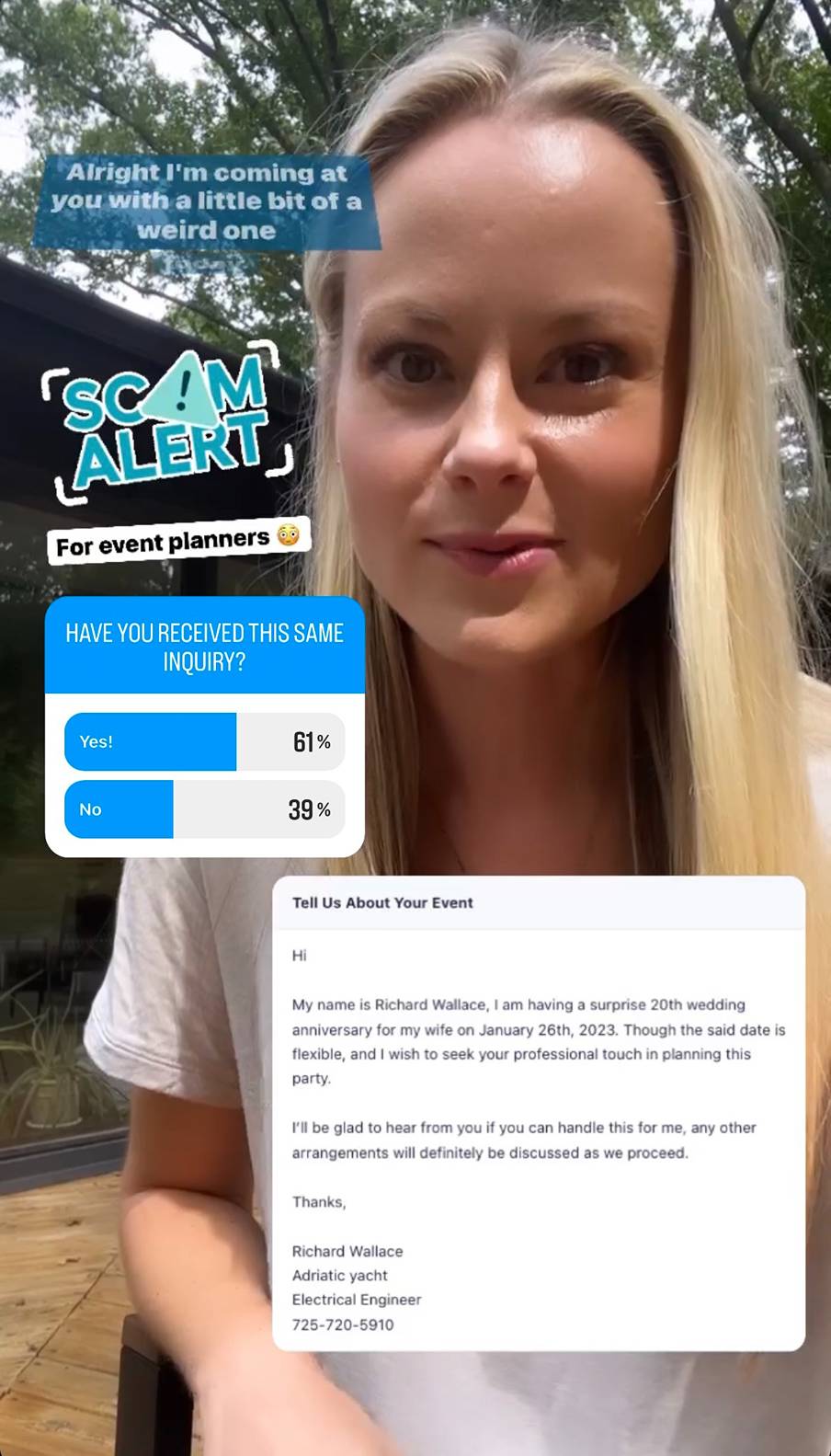 Wedding business owners sent me tons of examples of scam inquiries. Many also offered advice on how they spot them. I want to share that all here, to help you weed out bad inquiries and avoid getting scammed.
How to Spot a Scam Inquiry, Message, or Email
Want to spot a scam? Wedding pros who regularly get these emails shared with me the red flags that help them realize the inquiry isn't for real.
"It's a red flag for me when the person is ready to contract for the highest paid service without having a consult or email exchange," – Pittsburgh wedding planner Jennifer Pecorari of Novalee Events.
"It's usually a scam when the inquiry has a wedding date that is within a few months or even on a holiday. Occasionally, I get an elopement or wedding with less than 30 guests that want to get married in 3 or 4 months. But most people planning a wedding have a longer time frame." — Bay Area wedding planner Leanne Bybee of Leanne Lane Weddings.
"I got a scam inquiry from someone who said he wanted to surprise his twin daughters with makeup classes. He was overly complimentary— used the words 'I'm in good hands'— and has never met or spoken to me before." – Houston wedding makeup artist Nyoka Gregory of Nyoka Gregory Beauty.
Other red flags that were mentioned multiple times:
Bad grammar and spelling in the inquiry
The email address is super random, like a bunch of letters and numbers
Inquiries that offer a big deposit or offer to pay in full right away
Including a job title or credentials
They insist that they can't talk on the phone
They say that all payments to vendors will have to go through you
The inquiry is for a "surprise wedding" (who would want that??)
For photographer inquiries, when the event date is "flexible" or the person won't specify a venue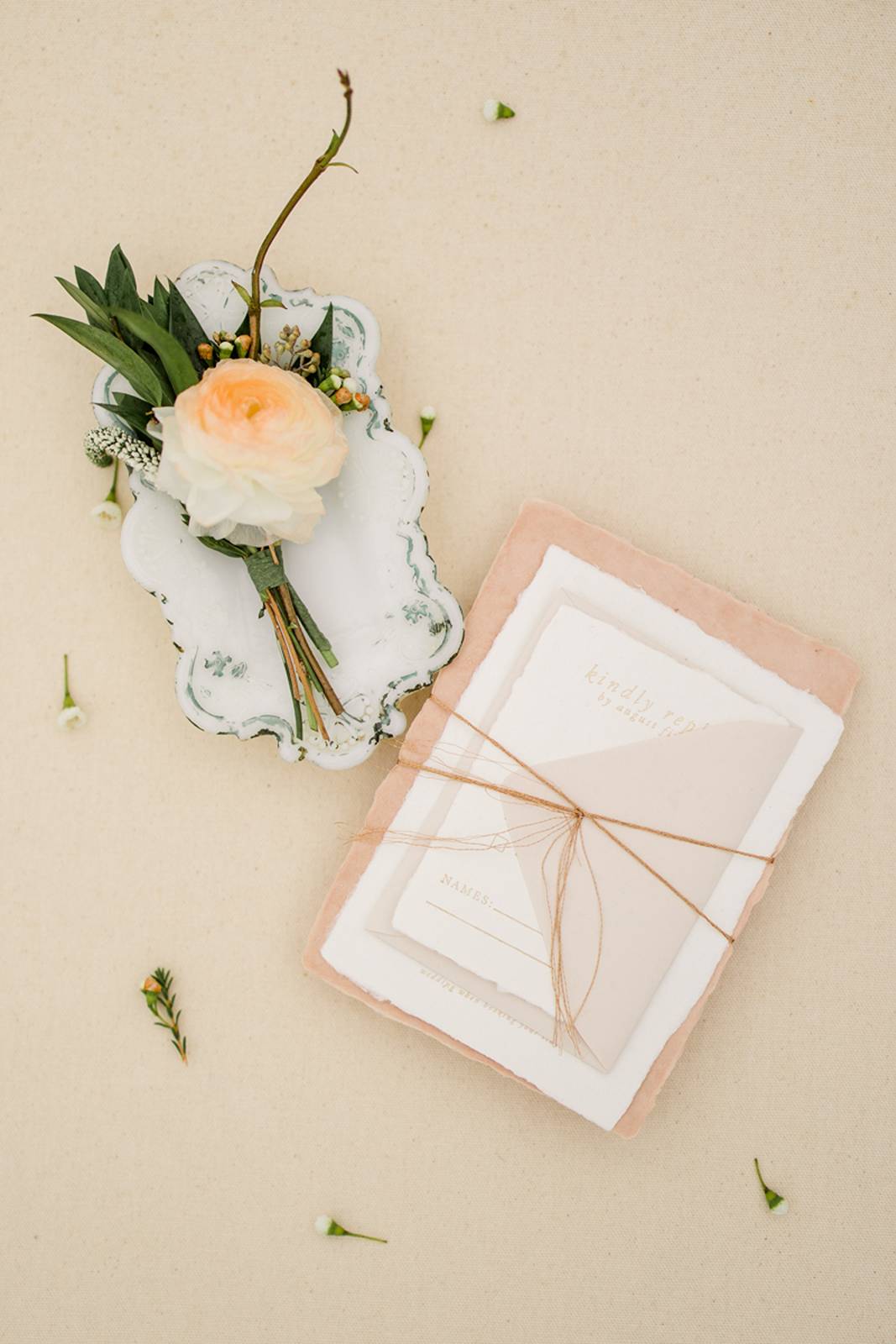 How to Handle a Suspected Scam Inquiry
So you've spotted what you think is a scam inquiry. What should you do with it?
Wedding business coach Brandee Gaar recommends deleting scam emails as soon as you've seen the red flags and are pretty sure it's a scam.
If you're worried it might be an actual inquiry, she says it's OK to reply (just don't click on any links in the email!).
"If you reply to a scam inquiry, they'll usually reply back immediately with a big list of things they want you to do," Brandee says.
"They'll sometimes want to book with you right away and tell you to get started. They'll want you to pay the vendors directly. "
"Usually, on the reply, you can tell really quickly that it's not a normal situation. When it feels wrong in your gut, just delete it."
Ultimately, Though, What is the Scam?
I'm a curious person. Sure, I want to know how to spot a scam. But I also want to know—What's the scammer trying to get out of this?
How does the scam work?
Carly of Day of Details Coordination in Florida sent me this email she received after replying to a suspected scam inquiry: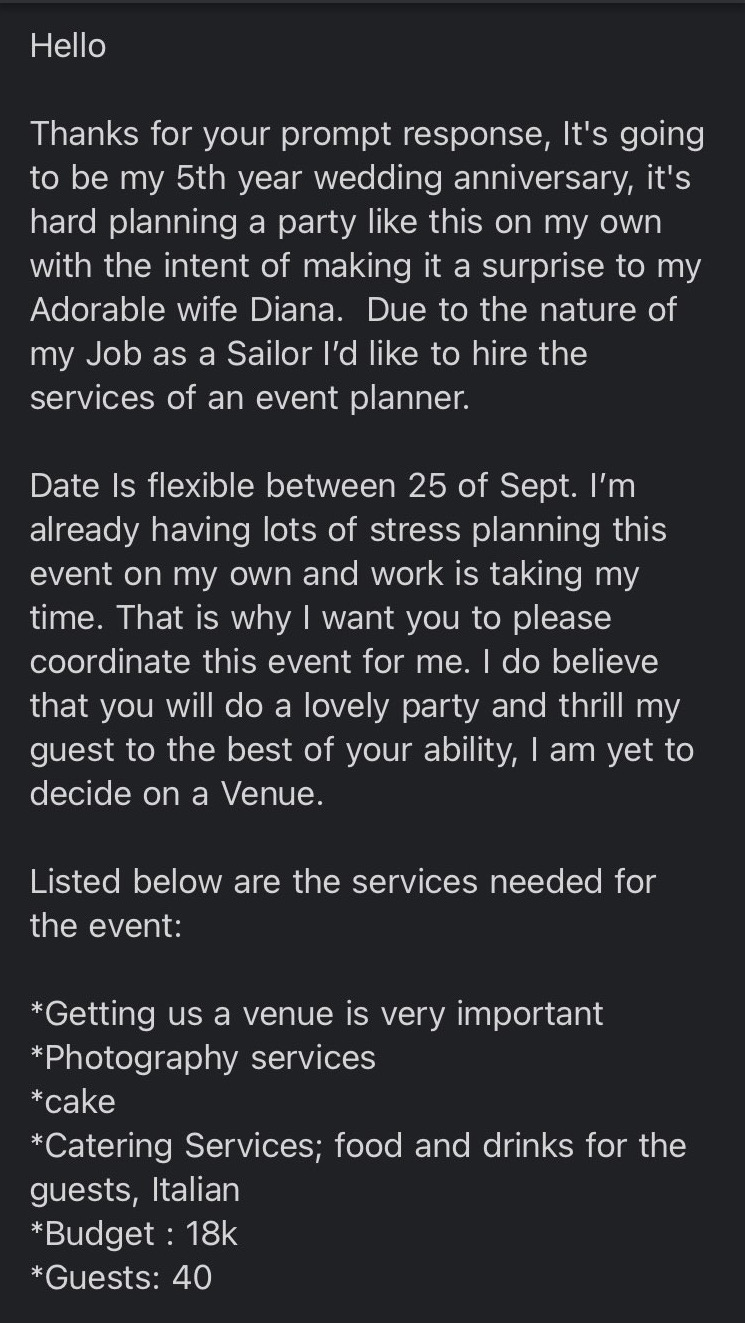 You'll note the red flags:
They are going out of town, so "all payments to vendors will have to go through you"
They promise a deposit or full payment via a check, without you asking for payment
Overly complimentary
Ways the scammer profits from this
There seems to be multiple ways that the scammer ends up with money.
According to Tampa wedding planner and former anti-fraud employee Albriana Shante Youyoute, "The scammer will often ask right away 'Do you accept credit card?' They'll want you to charge a large sum to their card, which is usually a stolen credit card number. Then, they'll ask if you can send some of the money back to them. That's how they profit from this."
I also saw an explanation (via wedding photographer Chelsea at White Quill Creative) that the scammer would pay by check but purposely over-pay for the service by $500 and then ask you to return the extra or use it to pay someone else (who's in on the scam). Then their original check bounces, they disappear, and you've lost the money you paid out.
It's such a bummer. And I hope it doesn't happen to you!
To wrap this up, I hope this article helps you more easily spot scams that target the wedding and events industry. Be careful out there!
Many thanks to the contributors who sent thoughts, screenshots, examples, and advice for me to include in this post.
And a final disclaimer: I am not a fraud expert. Do your own research and due diligence for any inquiry you receive.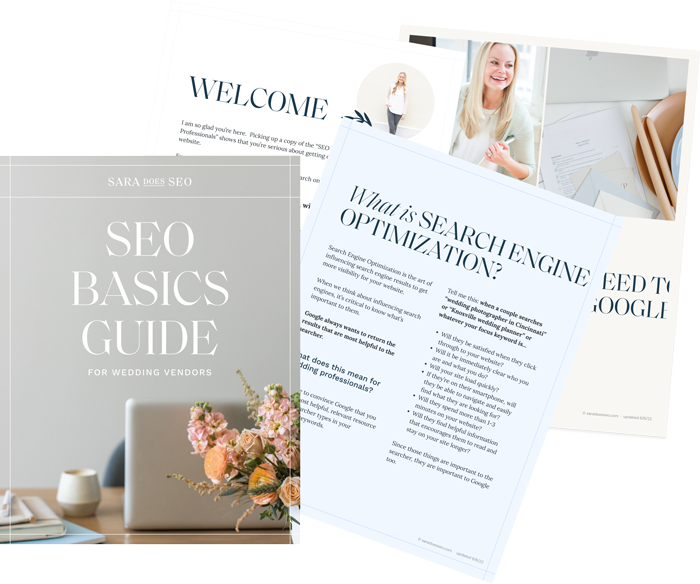 The SEO Basics Guide for Wedding Professionals
Get instant access to my top SEO tips, including only what's working right now.
Every creative wedding pro needs a geeky best friend. Let me help you and your work get found online.