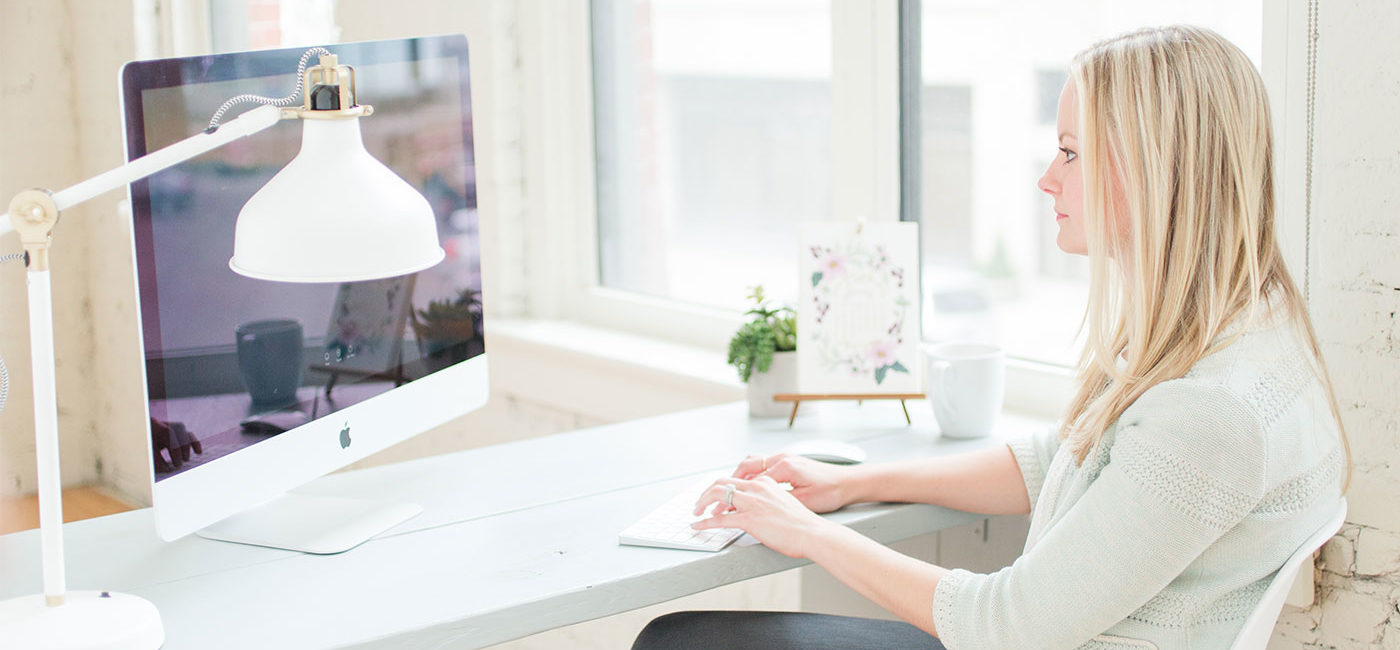 How to Ask Google to Recrawl or Update a Page
When you're working on your website, you may make big changes to a page that you want Google to notice.
Let's talk about how to ask Google to re-crawl, reconsider, or update a page.
Why would I want Google to reconsider a page on my site?
Not even sure why you'd want to do this?  Here are a few reasons you may want Google to re-crawl a page on your site:
You added a brand new page or post to your website
You made big changes to a page on your site (such as adding a lot of new text, or optimizing a page for SEO)
You fixed a problem that you think was hurting your SEO
If you put the effort into those changes, you probably want Google notice and improve your search engine ranking fast.
To do that, Google needs to re-crawl the page or your website to find your changes.
How long will it take for Google to re-crawl and notice my website changes?
Google will crawl your website occasionally, meaning that their "bot" will visit each page of your site and analyze it.
This happens slowly over time.  Google isn't "notified" of changes to your site.  The bot needs to come back and see that you made those changes.
The problem is, Google doesn't crawl every page on every website every day. They don't want to waste resources, so some URLs are crawled daily, some weekly, some monthly, and some as infrequently as every 6 months.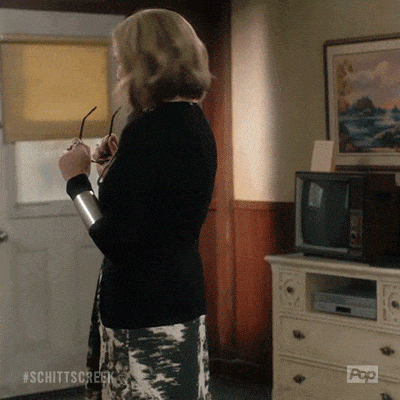 Oh yes that's right.  If you just sit around and wait, it could take weeks to months for Google to notice those great new changes you made to your site.  Boo.
If you want this process to happen faster, I recommend that you submit the URL to Google for indexing.
How to submit a page for indexing in Google Search Console
To submit a page for Google's review, you need to have Google Search Console set up.  This is Google's free tool that gives you information about how Google is analyzing your website.
If you don't yet have it set up for your site, click here for instructions on setting up Google Search Console.
Once you have Search Console set up, here is the process to request indexing for a page.
Step 2: Make sure you are on the correct Property.
This step may not apply to you, but if you have more than one property set up, you want to make sure you're on the right one.
Click the drop-down in the top left corner.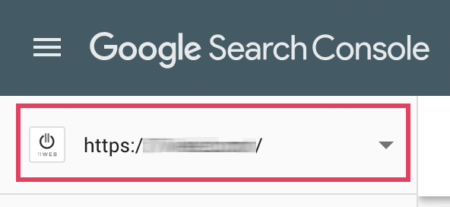 Switch to the site with the page you want re-crawled.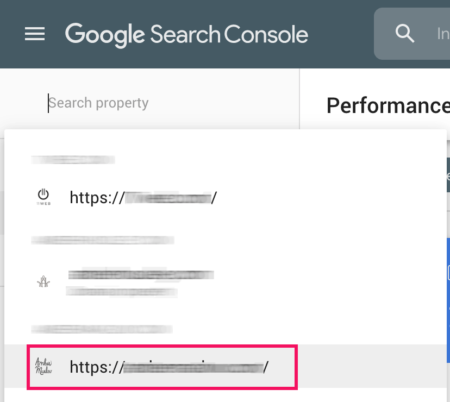 Step 3: Enter your page URL in the box at the top
Once you're sure you're on the right property, just click into the box at the top that says "Inspect any URL in…"

Then, paste in the full URL of the page you want Google to re-crawl and re-index.
(I recommend loading the page on your computer and copying the full URL from the box at the top of the browser).

Press Enter on your keyboard.
Wait for the data to load.
Step 4: Request indexing
You should now see the URL Inspection screen.  In the first section, look on the right side for a link that says "Request Indexing."  Click it.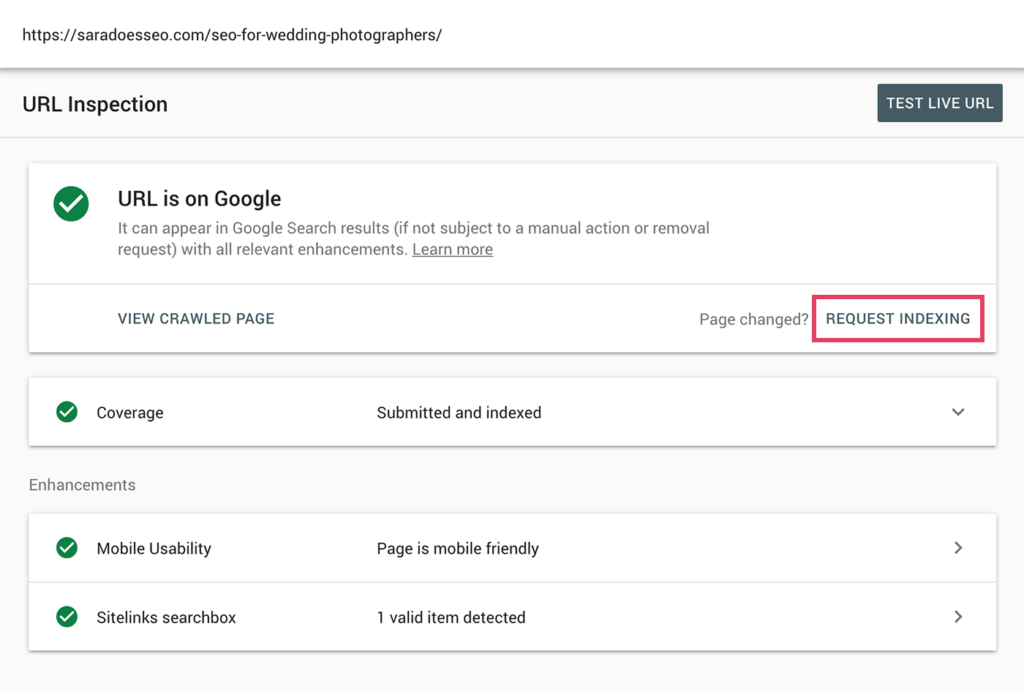 Google will test if the live URL can be indexed.  Just wait, this really can take a little while.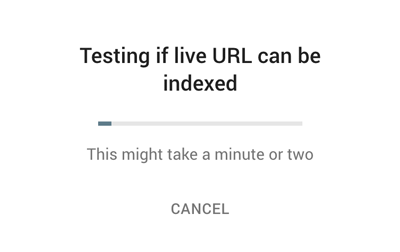 If it's successful, you'll get the "Indexing Requested" message.

That's it!  You've requested that Google re-crawl and reconsider your page or post.
Sit back and relax.  You've done what you can.
What happens now?
Your URL is now in the lineup to be indexed soon.  It doesn't happen instantly, and it still may be a few days before you see any changes in the search results.
But, you can feel reassured that it won't take months!
Do you have a lot of pages that you want re-crawled?  I recommend you also submit a sitemap.  Here are a few resources about sitemaps: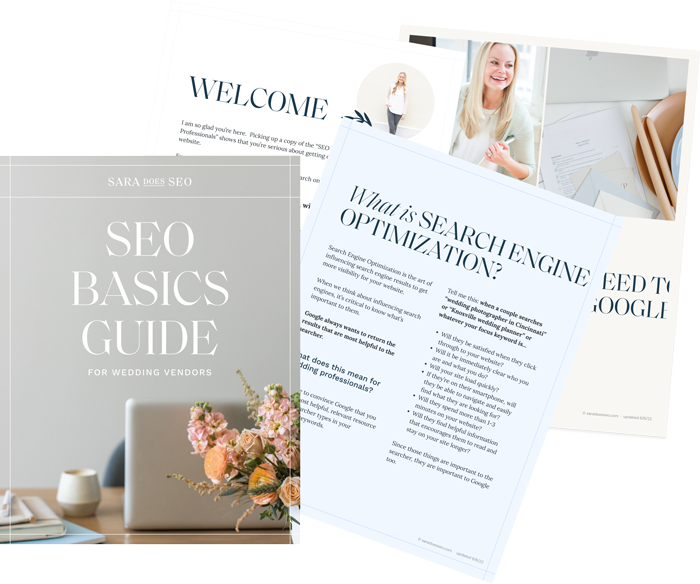 The SEO Basics Guide for Wedding Professionals
Get instant access to my top SEO tips, including only what's working right now.
Every creative wedding pro needs a geeky best friend. Let me help you and your work get found online.