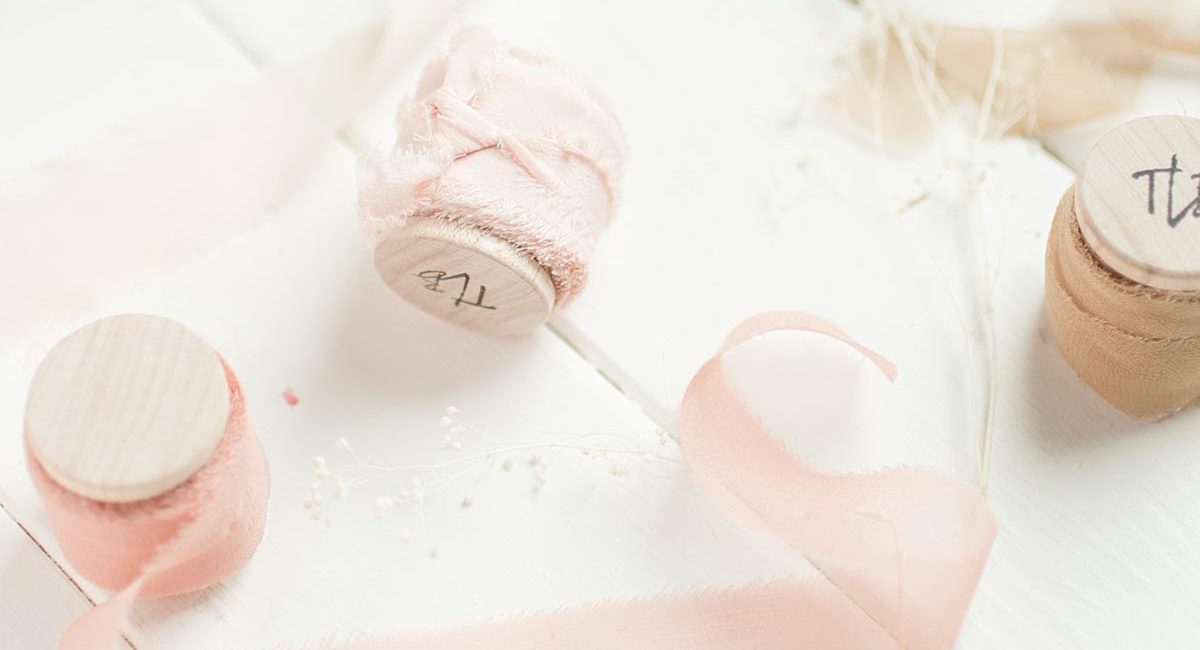 What are Backlinks? (and Why They're Gold for SEO)
On my blog, I talk a lot about on-page SEO, which means the changes you can make to your own website to optimize it better for search.
But did you know that a big part of your search engine authority is actually determined by factors off of your own website?  To rank your site, Google takes into account where your business and URL are linked across the web.
Links to your site are really important to Google, which is why they are so important for your SEO.
What are backlinks?
Backlinks (or "inbound" links) are links to your website from other websites on the internet.  When you're quoted in an article with a link or credited by another vendor with a link back to your site, that's a backlink.
Why backlinks matter
Google treats links from other sites kind of like "votes" for your website's quality.  If someone is willing to link to your site, they must have some trust that your website is a good one to send their visitors to.  That's a big deal to search engines.
To give you an example, let's say Google's algorithm is trying to choose between two wedding planners' websites to rank for the term "Knoxville wedding planner"
One wedding planner site has been linked by Style Me Pretty, Grey Likes Weddings, BRIDES.com, a local Tennessee wedding blog, 25 other vendors, 6 venues' preferred vendor lists, in a local newspaper article, and on the local Chamber of Commerce website.
The other wedding planner site has 5 links to it from local photographers' blog posts.
Which do you think Google is going to judge as the better, more trustworthy business to drive traffic to?
The answer is the first site, which has more links overall and links from authoritative, high-traffic websites.
I consistently see sites with more quality backlinks rank better than sites that are well-optimized for SEO.  Backlinks matter, and working to get more of them is worth your time.
The three types of links to work for
There are three types of links that will bring a lot of value to your website in the eyes of Google.
Links from High-Authority Websites
Not all links are equal.  Google tracks the authority and trust of other websites, based on how many links they have, their traffic, and many other factors.  Getting a backlink to your site from a high-authority site is very valuable for your SEO.
As an example, Style Me Pretty is a very high authority wedding blog.  Getting a link from SMP is much more valuable than a link from a lesser-known blog (but also much more difficult!).
You can check a website's authority by using Moonsy's Domain Authority Checker.  Enter the website URL that you might want a link from and see its domain authority score.  The highest score is 100, and links from websites with a score over 40 or 50 are pretty coveted.
Relevant Industry Links
If you are in the wedding industry, links from other wedding-related sites help Google to understand that you are also an authority on weddings.  A link from a wedding blog will help your SEO more than a link from your friend's new style blog.
Similarly, if you're a wedding photographer, photography websites are also relevant to what you do.  If you're a wedding planner, websites about special events and event planning are relevant. Relevant industry links are good ones to shoot for.
Local Links
Do you want to rank in your local area or a certain city?  Links from websites about your city or related to your local area help Google understand your authority in the area.  These would include a local newspaper, local blog, local non-profit, or Chamber of Commerce.
How to get more backlinks to improve your SEO
Below are a few ideas for building your backlinks to your site.
Submit your latest weddings to wedding blogs.  Aim small if you're new to this, targeting lesser known and local wedding blogs.  These links still have value, so don't aim only for the biggest, most well-known blogs.
Apply to guest on podcasts that take submissions.
Send the finished photos from a recent event to the other vendors who worked on it (with the photographer's permission).  Include a list of all vendors and some details about the event. Then ask them to credit you with a link back if they post it on their blog.
Pitch a story about something great you're doing to your local newspaper, a local blog, or a local magazine.
Offer to write a guest post on a wedding blog or local blog.
Join your Chamber of Commerce if they offer online profiles that link back to members' websites.
Sign up for all the free listing sites for wedding vendors that you can find.
Link buyer beware
I almost closed this post without warning you about shortcuts (agh!).  On the internet, you will find services that claim to get you thousands of backlinks for very low cost, with no work on your part.  As with most things that sound too good to be true, this definitely is.
While these service may actually get you links, those links will be from low-quality spam directory sites.  These are viewed negatively by Google and will not help your rankings.
There are very few link building services I would recommend, and none of them are cheap.  Getting high-quality links takes time and investment. Do not be tempted by "get links quick" schemes.
Let's do this!
Now, let's get started!  Consider setting aside one morning every month for link building.  Give yourself a certain theme or goal. Maybe this month, you sign up for free listing sites.  Next month you can pitch yourself as a podcast guest. Each good link helps, and links built up over time will help you win Google's favor.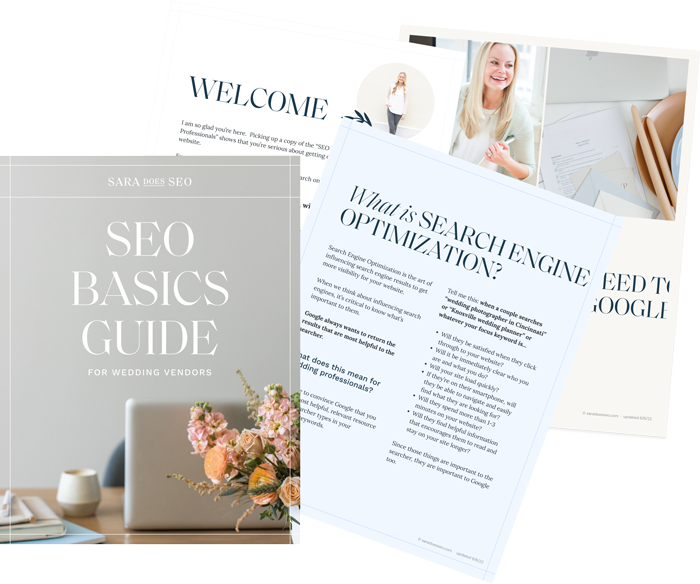 The SEO Basics Guide for Wedding Professionals
Get instant access to my top SEO tips, including only what's working right now.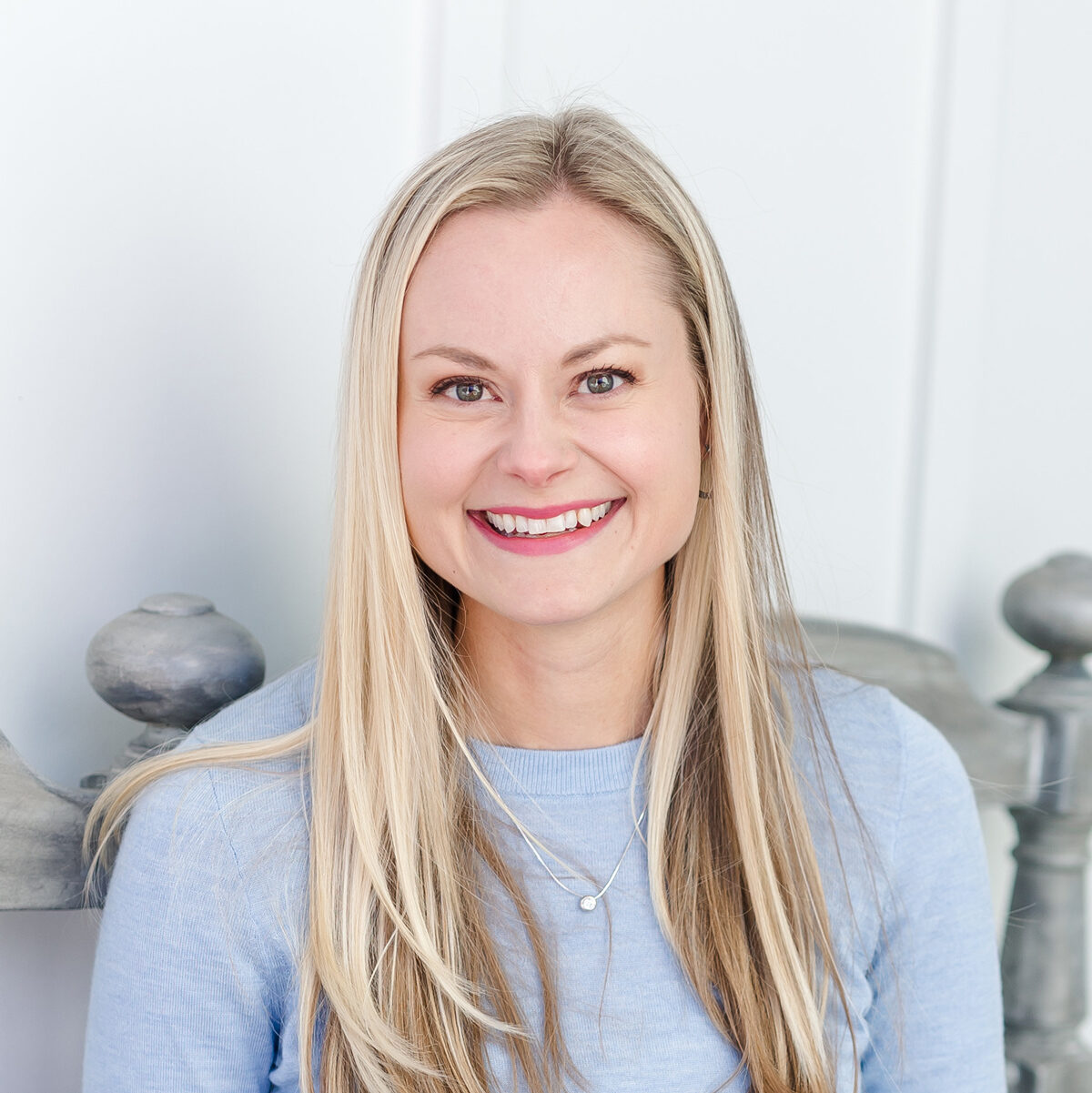 Every creative wedding pro needs a geeky best friend. Let me help you and your work get found online.