When it comes to marketing your wedding or event venue, SEO for wedding venues is a buzzy topic.  Wedding venue SEO (search engine optimization) is how you set your business up to get found on Google.  Every month, millions of newly-engaged couples search on Google to find their wedding venue options, and I want you to be there.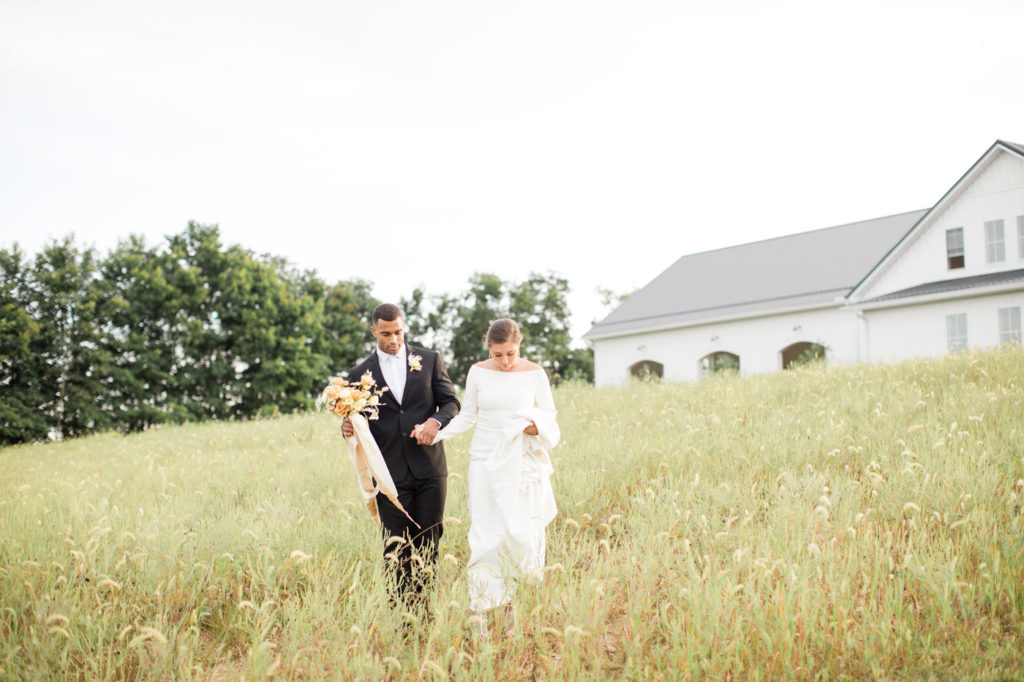 The problem with SEO?  Most articles online make it sound wildly technical.  "H1s" and "sitemaps" and "meta tags"… yeah, nevermind. ?
I'm not into that tech-speak.  As a wedding SEO specialist, it's my job to make SEO simpler for my wedding venue clients and students.  So this article is about the important, easy stuff that makes the biggest impact on your venue's SEO.
Ready?
Here are my 4 Hacks for Wedding Venue SEO (to Get Found Faster!)
Follow these steps to boost your wedding venue's rankings on Google:
Use your most important keyword on your home page
Describe your venue and include popular keywords
Set up Google My Business
Ask for Google Reviews
Use your most important keyword on your home page
This one seems obvious, but I am always surprised in auditing client sites how many wedding venues miss this important step.
If you want to be found for a phrase like "Missouri wedding venue," you have to use that phrase on your website.
In working to stand out and be unique, you might be tempted to use a creative heading like "Your location for memorable celebrations" and forget the phrase "wedding venue" entirely.  But—if SEO matters to you, you need to be a little more literal for Google.
So on your home page, here's the most important SEO hack for you:
Think about your most important keyword.  This is usually "[city] wedding venue" (like "Atlanta wedding venue") or "[state] wedding venue" (like "Georgia wedding venue")
Put that keyword on your home page, ideally in a big headline near the top.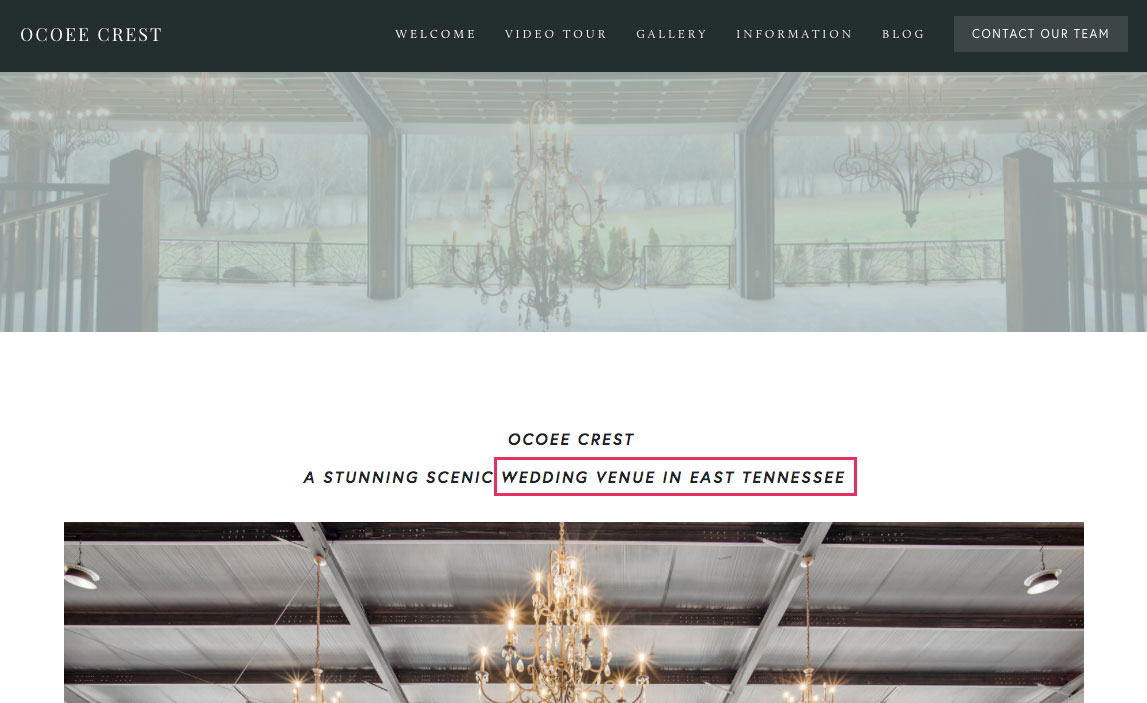 Instantly, Google will get a clear understanding of where you're located and what kind of business you are.
Describe your venue and include popular keywords
Every single day, I study how engaged couples search online.  And what's fun about how couples search for venues is that they get specific. And descriptive.
Marriers know what they want, and they ask Google to help them find it.  If they're dreaming of an outdoor wedding ceremony, they type in "Nashville outdoor wedding venues" into Google.
That means, to get found more on Google, you should get descriptive too!  Here are some phrases you could use on your home page or About page when you describe your venue.
Popular SEO keywords for wedding venues
outdoor wedding venues
Indoor wedding venues
inside wedding venues
small wedding venues
micro wedding venues
unique wedding venues
downtown wedding venues
outdoor reception venues
mountain wedding venues
country wedding venues
garden wedding venues
barn wedding venues
wedding barns
rustic wedding venues
affordable wedding venues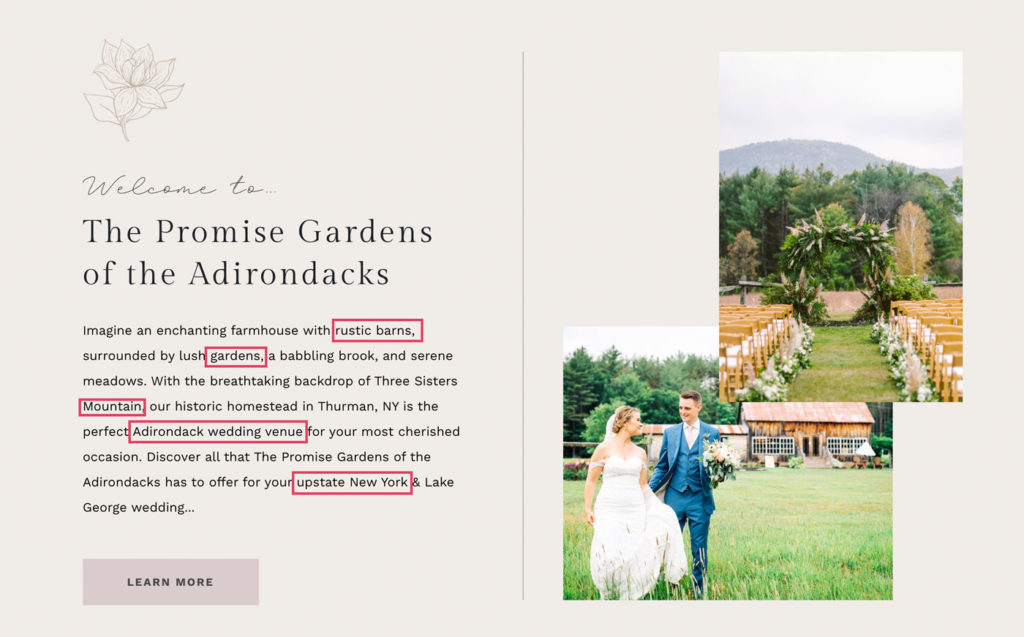 Describing your venue as an "affordable outdoor wedding venue in the North Georgia mountains" is going to help you rank for more searches on Google.
Can you see how that's more descriptive and keyword-focused than just writing "An unforgettable location for your big day"?
*I teach even more ways for venues to get found for these super specific keywords in my course, Wedding SEO Bootcamp!  There's even a focused lesson on blogging for venues.
Pay attention to Google My Business
Google My Business is Google's free listing tool for local businesses.  Every wedding venue should have a Google My Business listing, because…
It's what helps you show up on the Google map
It adds tons of information in the search results for your business
It's where you go to manage and reply to reviews
Basically, Google My Business helps you to better control your own search results.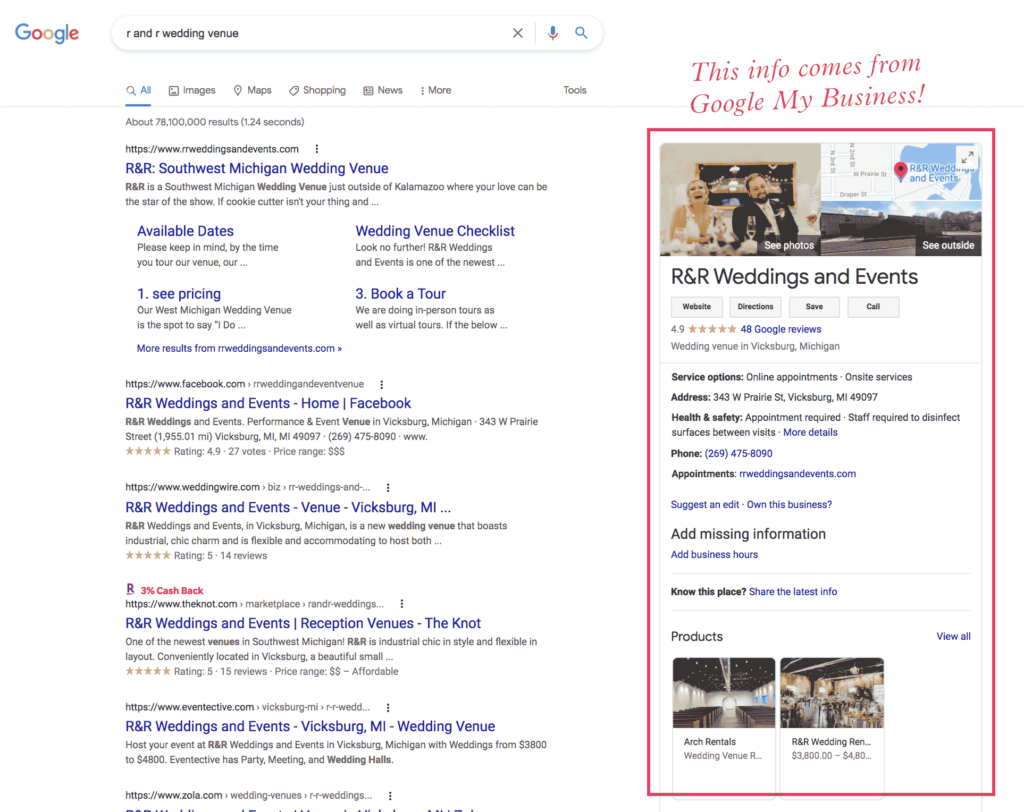 Here are my recommended steps to optimize your Google My Business listing to be found in searches:
Sign up for free at https://www.google.com/business/
Fill in all of the information you can in the "Info" tab of your listing.
Upload at least 15 photos to start, and then add 5-10 more every month.
Consistently ask your clients for Google reviews.
Ask for Google Reviews
Reviews are one of the most prominent elements of the Google search results.  Those big gold stars attract a lot of attention and can drive more clicks to your listing.
So to maximize your clicks from Google searchers, you need more reviews.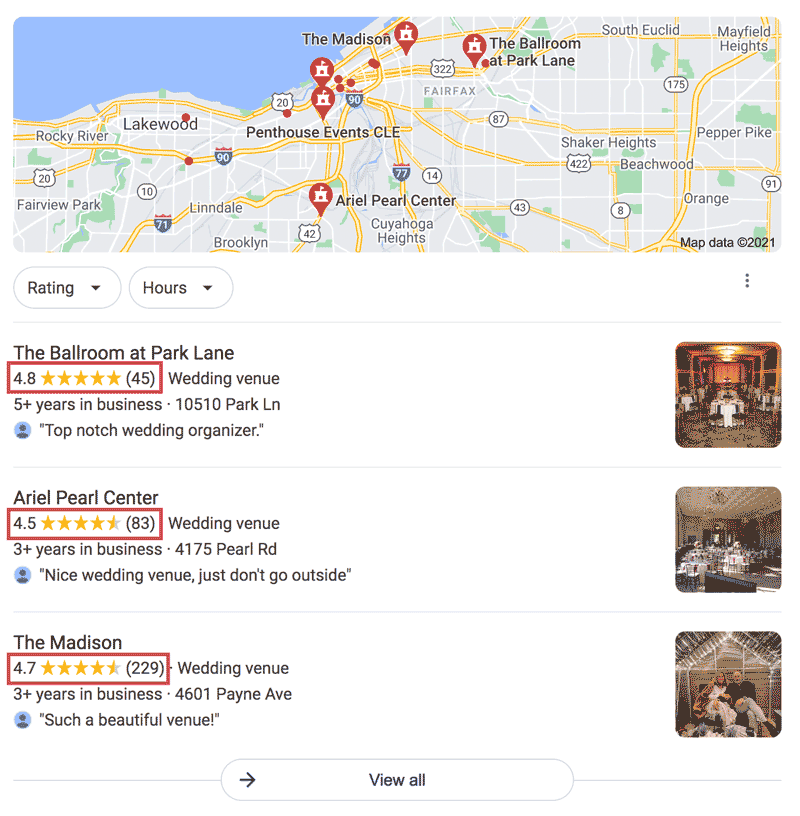 It's important to note that it's not only clients who can leave you a Google review.
Anyone can review your business, provided it is "based on real experiences and information." (see Google Maps' User Contributed Content Policy)
The only reviews that are prohibited are:
Reviewing your own business.
Posting content about a current or former employment experience.
Posting content about a competitor to manipulate their ratings.
That means all of these people can leave a review for your venue:
Your couples, of course
Their parents and family members
The wedding party
Wedding guests
Anyone who attends an open house or takes a tour
Other wedding vendors
Ask yourself: how could you encourage more of these people to leave you a review? (without offering payment or a prize)
One great strategy is to exchange Google reviews with your preferred wedding vendors.  It means a lot when a wedding planner or photographer leaves a review stating that they love working at your venue!
> Read more ideas in my article: 3 Easy Ways to Get More Google Reviews
Get Help With Your Venue SEO