Do engaged couples really search on Google for wedding florists? OH YES they do, and this article is all about it. If you want to get found on Google, wedding florist SEO (Search Engine Optimization) is what you need.
Floral professionals often come to me with some big assumptions about how engaged couples search that aren't exactly true.
So let's bust some myths, get started with SEO, and also find out how to hire help if you'd like it!
3 florist SEO tips to help wedding florists get found on Google.
Think beyond general "Florist" or "Flower Shop" keywords
Pay extra attention to the map
Blog your real weddings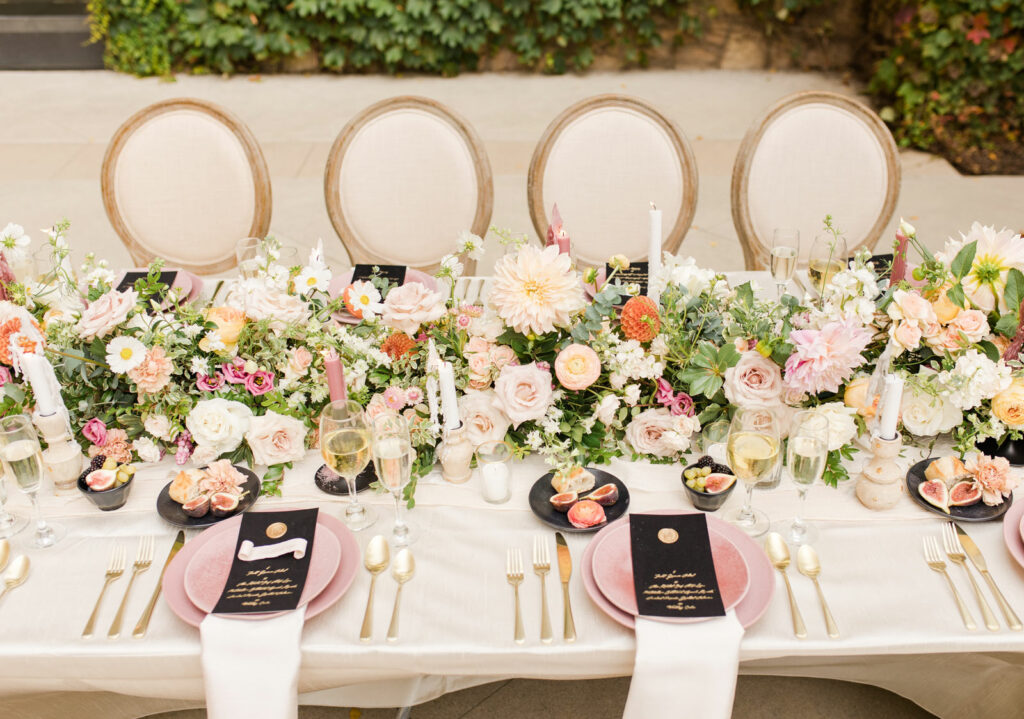 #1 Think beyond general "Florist" or "Flower Shop" keywords
The biggest myth I hear? "Engaged couples only search for "florist" in general, not 'wedding florist'!"
I can tell you from that data that that is 100% false. You do not have to rank for competitive florist keywords like "Chattanooga florist" to get found by engaged couples.
Instead, focus on keywords like "wedding florist" and "wedding flowers."
Here are just a few examples of keywords for wedding florists:
"wedding florist" – searched 40,500 times every month in the US! Google will show results near the searcher's location
"wedding florist near me" – 6,600 searches per month
"wedding flowers near me" – 2,900 searches per month
"wedding florist san diego" – 390 searches per month
"wedding florist houston" – 290 searches per month
"wedding flowers kansas city" – 70 searches per month
"rhode island wedding florists" – 50 searches per month
#2 Pay extra attention to the map
Even for general searches like "wedding bouquet," Google will show a map of local florists near the top.
Here's a screenshot from a search for "wedding bouquets" where the searcher is in Chattanooga: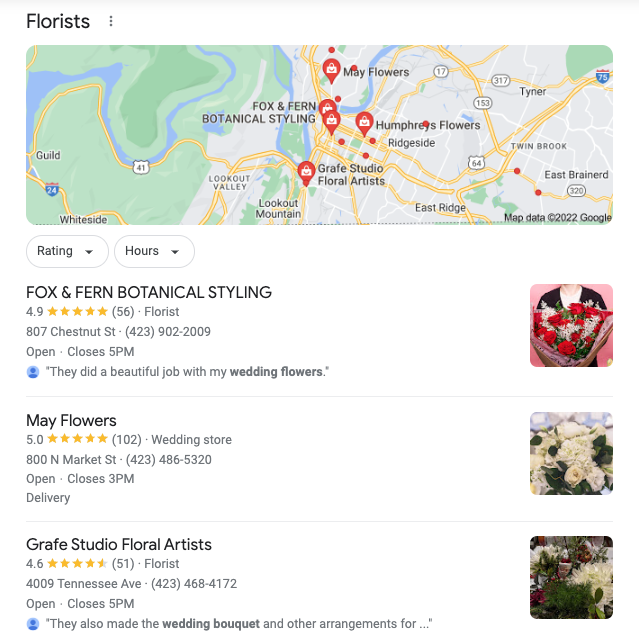 So how do you show up here? The most important thing you can do is make sure you have a Google Business Profile, which is a free listing from Google. Fill it in completely and mark your primary category as "Florist."
#3 Blog your real weddings from your favorite venues
Want your florals to show up when couples are looking for inspiration at their favorite local venues? You need to blog your real weddings!
Showing up in venue searches is a great way to connect with couples at the beginning of their planning process.
Don't worry— I'm not saying you need to blog weekly, or even monthly. I would just like to see your blog have at least 6 new posts each year (maybe a few more if you're in a big city or competitive market).
Make sure a few of those blog posts are the stories of real weddings you worked on at your favorite venues.
Write not just about the couple's personal story, but also your floral design work! Consider including:
What the couple told you they wanted the wedding to look and feel like
What the main florals were and why you chose them
Brief details on how you created and installed special features of the design
Details on any florals you repurposed throughout the wedding day
What you loved about the end result (yes, you as their floral designer! This is an opportunity to create connection with potential clients)
Want to learn my step-by-step process for optimizing these posts? Check out my Wedding Blog SEO Step-by-Step Guide
Wedding Florist SEO Services
Want to just hire an expert to set up your SEO for you? Or do you want a step-by-step course on exactly what to do? We have you covered!
Check out our Wedding SEO Services and Trainings. Created specifically for the wedding industry, I am sure we have an SEO service or course that's perfect for you.
Photo credit: Starling Studio, Floral design credit: Prema Designs (see all vendors)